Day to Day Itinerary for Our
V.I.P. Beer Vacation in Germany
with Draft Magazine


Berlin to Nürnberg




April 23 – 30, 2017



Day 1 – Sunday April 23, 2017 Berlin (D)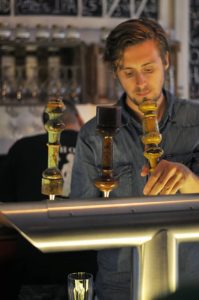 Meet your fellow travelers and hosts in the lobby of our hotel in Berlin this afternoon after unpacking and settling in. We'll head off to the funky, hip Wedding area of Berlin. Don't expect to see brides or cake though- this up and coming area was named for a nobleman who lived there in the 13th century. Here we will visit our first breweries of the week, Vagabund and Eschenbräu. We can toast here to German Beer Day and celebrate the 501st year of the Reinheitsgebot. Then we are off to our welcome dinner located in a very authentic German pub, Tiergarten Quelle, which is one of the favorites of Draft Editor and beer writer, Joe Stange. Here we will also have the opportunity to have a guided tasting of the beers from Brauerei Lemke. After dinner, if you are not too jet-lagged, you can join your beer guide, Mike and local host, Joe for some optional beer hunting.
Day 2 – Monday April 24, 2017 Berlin (B+L)
After breakfast at our hotel, we are off to explore Berlin on a walking tour with our
private guide. We'll see the architectural and historic sights and hear the story of this dynamic city.
All of our walking will have earned us the right to relax over lunch and a beer and then it's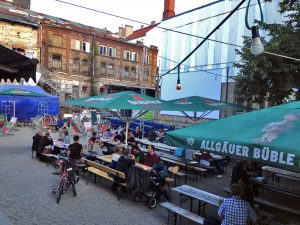 time for… more beer! This afternoon we will visit Emil's Biergarten and meet Ulrike Genz, the brewer from Schneeeule. Her brewery has revived the traditional method of bottle-fermenting with brettanomyces to create Berliner Weisse. During her studies in brewing technology at the TU Berlin, Uli researched Berliner Weisse and the use of Brett which helped her in developing the recipes she uses today. She tells us that "They are very close to the Berliner Weisse from 150 years ago in the great times of Berliner Weiße as the
'champagne of the north'." We will also meet Andreas Bogk who has actually propagated yeast from some of the old Bottles of Willner Weiße, the Berliner Weiße that was brewed at the old Willner Brauerei. This was the last brewery that produced Berliner Weiße in the classical way until 1972, and we will have a chance to tour through here as well as taste the beers being brewed by both Uli and Andreas.
This evening, you will have your choice of heading back to the hotel and/or heading out to explore and enjoy dinner on your own; or following local host, Joe Stange on a beer hunting evening to some of his favorite local haunts.
Day 3 Tuesday April 25 Dresden (B+L)
Today we enjoy an early breakfast at the hotel before loading up our coach and heading to a very special visit to Radeberger Exportbrauerei. We chose Tuesday, April 25th for our visit to the brewery in Radeberg since it was the date that the former Aktienbrauerei zum Bergkeller was re-named Radeberger Exportbierbrauerei. Here we will have a VIP tour followed by a lunch of regional Saxon specialties at the nearby Radeberg brewery bar: Brauerei Ausschank.
From here we will head to Dresden to check in and drop our bags before heading off on our privately guided walking tour of this beautiful historic city. After our tour, enjoy some time for a relaxed dinner on your own or perhaps a visit to the spa at the hotel?

Day 4 Wednesday, April 26 Leipzig/Bamberg (B, L, D)
Enjoy a Breakfast at our hotel before we head off to explore yet another of the great beer styles that has been re-born in Germany and is gaining much attention in the US and elsewhere.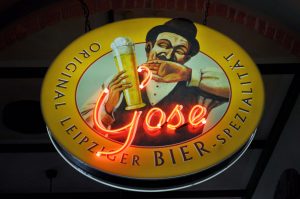 Today we will visit Gosenschenke Ohne Bedenken in the town of Leipzig. Here, we will learn about the history of gose during a guided gose tasting and weather permitting, enjoy lunch in their award-winning biergarten.
Next, we stray a bit off the beer route for a special treat for those of us with a sweet tooth as we head to Confiserie Storath. When you put your name on something, you want it to be the very best. Johannes Storath has done just that and certainly set the bar for artisanal chocolates in Bamberg and the surrounding areas. Confiserie Storath uses only the highest quality ingredients to create products "to sweeten the everyday". Here we will see magic in the making as we tour the factory of this well-known chocolatier and then be treated to some of his delicious chocolates!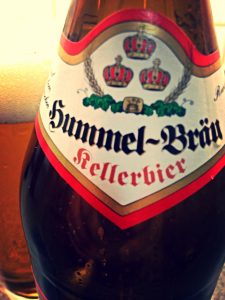 Once our appetites have been whet, we must follow through with a perfect end to a perfect day- dinner of local specialties and traditional smoked beers and kellerbiers at Brauerei Hummel.
Then it is off to the ultimate German beer lovers' mecca- Bamberg, where we will check into our hotel for the next 3 nights.

Day 5 – Thursday April 27 Bamberg (B,L)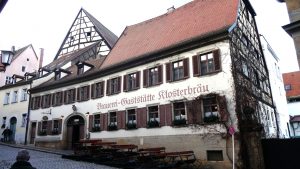 One we have fortified ourselves with a good Breakfast this morning, we will meet our local guide for our Walking Tour of Bamberg and visit to the Frankisches Brauereimuseum. After we've learned the lay of the land and some of the history of the beer in Bamberg, we will visit the oldest continuously operated brewery in Bamberg, Klosterbräu Bamberg for a tour and Lunch. The rest of the afternoon and evening is yours to explore the sights, pubs and local cuisine.

Day 6- Friday April 28, 2017 Bamberg (B,D)
After Breakfast at our hotel we are heading off to a very special place. Many of you will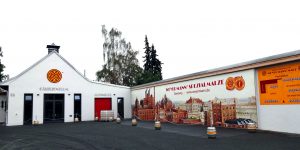 recognize the familiar red WM logo that you have no doubt seen time after time on the bags of malt at a number of US breweries as well as those around the world. The 135 year-old Weyermann Malzfabriek is the leading manufacturer of specialty brewing malts and supplies malt to 135 countries around the world. Visiting and experiencing what goes on behind the walls of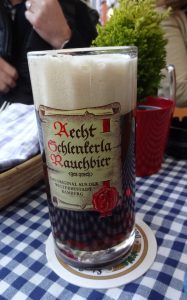 this titan of malt houses will be akin to visiting Willy Wonka's factory, only for beer lovers.

The afternoon is free for lunch on your own and to explore Bamberg at your leisure before we reconvene in the evening for a tour and dinner at Schlenkerla -world renowned for their rauchbier. After dinner enjoy a leisurely stroll about town or back to the hotel to work off your dinner; or join your beer guide Mike and DRAFT Co-host Joe for optional beer hunting.

Day 7- Saturday April 29, 2017 Nürnberg (B,D)
After one last Breakfast in Bamberg, we are off to Nürnberg but first a stop to visit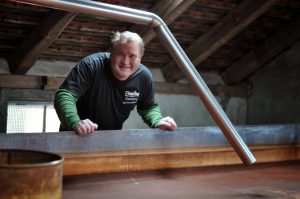 Andreas Gänstaller, brewmaster at Gänstaller Bräu in Hallerndorf. Andy brews with his daughter and is well known in the brewing community for both his international collabs with breweries like de Molen, as well as the amazing beers he brews while staying true to the Reinheitsgebot. We'll get to check out some of these as well as see his set up – including an antique copper cool ship. Certainly a great way to start our final day of Beercation! Once we arrive and check into our hotel in Nürnberg, we'll have some free time to check out the town. Tonight we'll tour the underground tunnels which still serve as beer cellars for Hausbrauerei Altstadthof where we will be enjoying a hearty farewell dinner. As always, your beer guide, Mike and local host, Joe welcome you to join them in checking out Nürnberg's beer scene for a final nightcap.

Day 8 – Sunday April 30, 2017 Nürnberg (B)
Enjoy Breakfast at our hotel before checking out and heading to the airport for your flight home -or on to your next destination!


Early Booking Prices:
$3295 per person double occupancy
$4285 per person single occupancy
(save $100 for payment by check)

Space is Limited to Ensure a VIP Experience
Book Today to Guarantee Your Spot!