Who Is Your Beer Tour Team & What's Their Story?
Bon Beer Voyage is a beer tour company that was created by beer and travel junkies forbeer and travel junkies. After numerous requests from friends and fellow beer enthusiasts, we decided it was time beer lovers had the same rights to beer trips, brewery tours and beer tastings as wine enthusiasts enjoy, so we created Bon Beer Voyage, our beer travel company, to share our passion for craft beer and beer travel with our comrades in keg.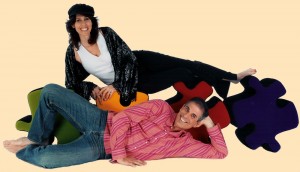 The Dynamic Duo of Beer Travel
Ruth Berman
CEO & BBB (Brains Beyond the Beer)
ITMI Certified Tour Director
Licensed Tour Guide
IATAN Accredited Travel Agent
Cicerone Program Certified Beer Server
"Dr. Ruth" is a travel professional with two decades of tourism experience who enjoys sharing the amazing people and places she has discovered with others. Whether she's taking her groups on swamp buggies through the Everglades, on an exclusive private tour of the Sistine Chapel, rafting in the Rio Grande, or in search of the best waffles and fries (frites) in Brussels, Ruth makes it a point to go that extra mile to make sure her guests go home with memories of the trip of a lifetime.
Ruth realized she had crossed over into the beer zone when she visited a village market in France looking for souvenirs and came back with a carton of local craft beers! Now, not only is she a member of The Pink Boots Society (for women beer professionals) but she was also chosen to serve as a beer expert on the panel for USA Today's 10 Best lists every year since 2014.
Ruth finds that speaking at least a few words of the local language always helps facilitate things for her group. Although she speaks fairly good French, she has been told that her command of the language improves after a few glasses of french wine. She is hopeful that if she drinks enough Belgian beer during her Belgium beer trips, someday she will speak Flemish!
---
Mike Arra
CBO (Chief Beer Officer),
Beer Guide & Beer Tasting Instructor
IATAN Accredited Travel Agent
A longtime craft beer enthusiast, Mike knew he was destined to turn his passion for beer into a greater cause after he successfully turned a number of his "wine snob" friends into craft beer enthusiasts.
Sharing his love of good beer, finding new places to enjoy his brew, and constantly on the lookout for the next limited edition of whatever craft beer he hasn't tried yet, Mike is an avid beer hunter and an enthusiastic beer guide. He has served as a beer expert for USA Today's 10Best since 2015.
When visiting a new country for the first time, Mike always makes sure to learn the most important phrases in the local language that all travelers should be armed with:
I'd like a beer.
Beer on tap, please.
Another beer.
Where is the bathroom?