Beers from Beercation 2015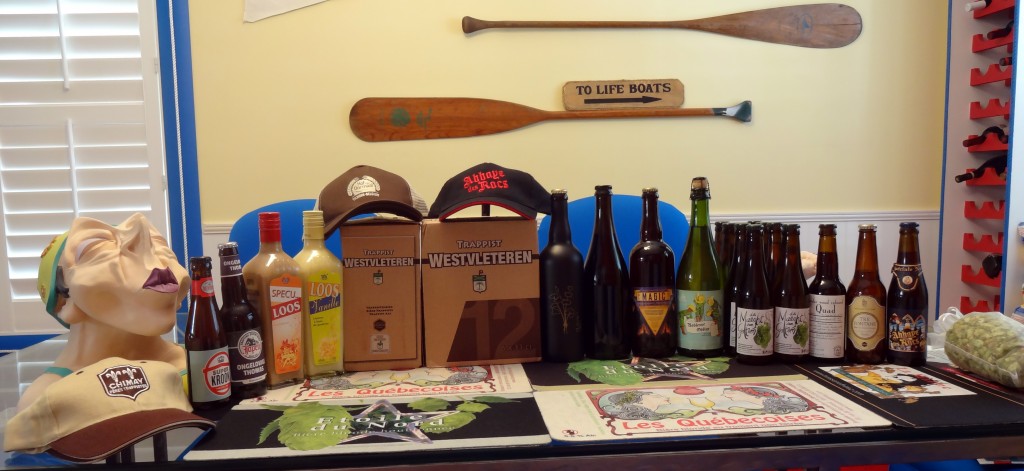 I was able to return home with a small but very nice stash of beer from our 2 Beercations in October.  I wish I was able to bring back home some more gems but I had to either drink them or gave them away before we came home due to weight restriction on the flight home.
From left to right here are the beery items which weighed in at 40 pounds!!!
 A Chimay hat
Super Kroon from Brouwerij De Kroon is Belgium Pale Ale 6.8% abv
Ongelovige Thomas (doubting Thomas) from Jopen is an American Quad at 10% abv
2 Bottles of Geniever (jenever) 1) Specu…Loos 2) Loos Vanille both are 15% ABV from Distillerie Claeyssens de Wambrechies
2 six packs of Westvleteren 12 from Abdij St Sixtus Westvleteren  which is a Quadruple at 10.2% abv.  Cost was $22 USD per six pack.
On top of the Westy's are a  Hof ten Dormaal Hat & an Abbaye des Rocs hat
2014 Librije's Bier from Jopen with is a 10% abv spiced Ale made exclusively for the Restaurant Librije in 2014
This unlabeled bottle is the 2015 Kerstbier (Christmas ale) 9.0% abv from Microbrouwerij Den Triest
Noblesse Oblige is a Collaboration between Brasserie Au Baron & Jester King, this is a 4.7% abv Bière de Garde brewed with honey.
8 bottles of De Maeght van Gottem (the Virgin of Gottem) is a 6.5% abv Belgium Pale Ale with a full Hop Cone inside each bottle from Sint Canarus
A Cedar Wood Infused Quad of 10% abv from Brouwerij De Molen
A Tripel 8.5% abv, from the newest Trappist Brewery Tre Fontane in Rome (Abbazia della Tre Fontane) – Birra Trappista Italiana
Spéciale Noël from a 9% abv Christmas beer which was just release from the brewery Abbaye des Rocs the day I purchased it!!
A  bag of Hops from the Hop Museum in Poperinge.
On the table top are a few assorted Bar Mats from Brasserie Thiriez
All in all we visited 24 different breweries, distilleries and/or tasting rooms over the 2 weeks, not including visits to over dozen different great beer bars tasting more than 120 different beers along the way. 
2015 Amsterdam to Bruges Beer Vacation Cruise  &
2015 Belgium & France Beercation Cruise