Likely if you are reading this, you are a beer geek to some degree. There is certainly a variety among those of us who have made beer a part of our lifestyles and I like to think of myself as a food oriented beer geek. Not sure if there is a term for this – Beer Foodie, maybe? Anyway, when I taste a new beer, without consciously thinking about it I often find myself pairing it in my head with some kind of food and thinking, "this would be so amazing with…" Getting to plan events for our tours like beer dinners in Rodenbach or chocolate and beer pairings in a chocolate factory is something I really dig about what I do. With that in mind, this month's holiday gift article focuses on gifts for peeps who love food and beer and the combination thereof.
Beer Pretzel and Beer Snack Mixes by Boardwalk Food Company.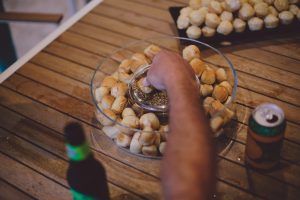 The owners of this Florida based company have come up with a tasty way to share their passion for beer, baking and entertaining Owner Andy Yochum told me that he and his wife Kim liked the relaxed, social vibe of the craft beer scene and wanted to create a shareable (social) snack to go with beer. It had to be quick and easy to prepare and easy to share – hence these nifty bite sized products. The mixes are ready to go with the addition of beer; which means you can take part in the creative process by choosing your favorite brew to mix in and to pair with later. And if you like mustard on your pretzels, you are in luck, they also offer beer mustard! Looks like a perfect set up for fireside holiday nesting. Check it out and save 30% on your order with the code: BONBEER
Beer Pairing: The Essential Guide from the Pairing Pros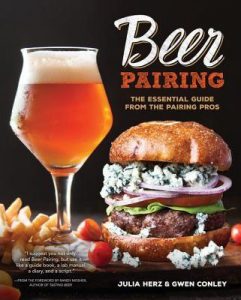 I love this book. Yea, I know, you probably own a zillion beer books. I do too. But I promise you this one stands out from the others. There is something about the way it is written that is very user friendly – it draws the reader in. (Okay, call me a geek, but I couldn't stop reading it. I even took it on the stair climber with me a few times.) Maybe this is because the authors, Julia Herz – Craft Beer Program Director at the Brewer's Association and Gwen Conley – who before her recent departure for new adventures, served as Director of Brewery Production and Quality Assurance at Port Brewing/The Lost Abbey – are two very approachable beer-industry superstars themselves. This is a must-have for anyone who has an interest in beer and food pairings.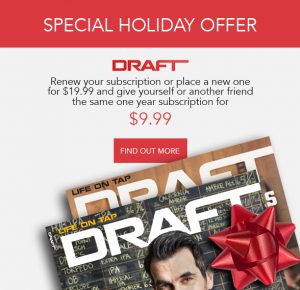 Draft Magazine always has great recipes to inspire your inner beer chef. They are currently running a great subscription renewal/gift subscription offer so you can gift yourself and a friend at the same time!
Craft Beer Barbeque Sauces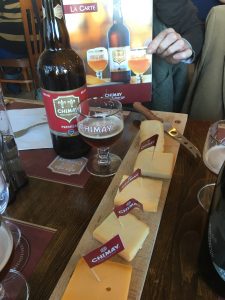 Say Cheese! One of the favorite stops on our Belgium and France Beercation Cruise is Chimay, where we visit the brewery, the abbey and the museum- Espace Chimay- as well as have lunch with a tasting of all the beers and cheeses. This is a pretty rockin' day. Fortunately, in between tours, we can re-create at least part of the tasting at home by ordering some of the Chimay Cheese online or buying it, along with some of their beer at Whole Foods or other local purveyor. Of course, it's more fun to visit in person, and you can do that too, as long as we still have a few spaces on the Belgium and France Beercation Cruise 2017