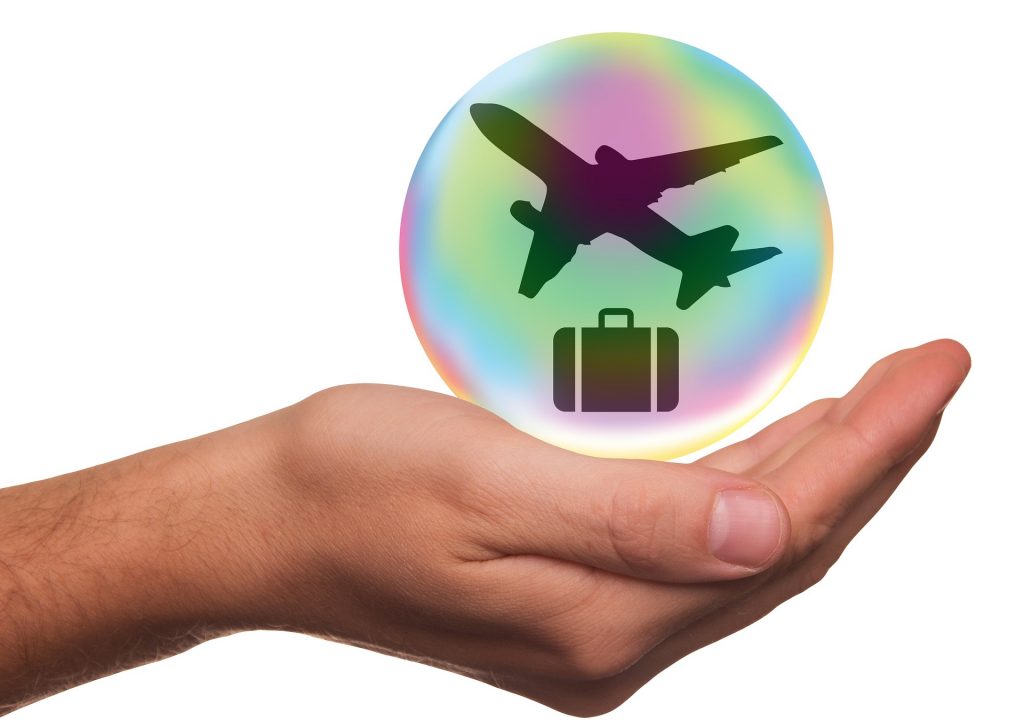 5 Reasons Why We Always Buy Trip Insurance – And Why You Should, Too!
(Originally Posted August 2021- Updated August 2023)
As travel has surged post-pandemic, so has trip interruption, travel delay, TSA issues, strikes, cancellations and other woes of both leisure and business travelers.
Whether you are a guest on our upcoming voyages or have another vacation planned in the near future, trip insurance, in our opinion, is a must.  Any of you who have talked to us know we are big proponents of travel insurance.  When you are on the road as often as we are, stuff happens.  However, even if you don't travel often, travel is an investment, and you should protect that investment and yourself.
When we were younger, we used to travel without insurance, thinking we didn't need it. This is a common misconception.  Trip insurance is there to assist even when situations you didn't consider put the kibosh on your travels…like death or illness of an immediate family member.  Or your home flooding out the day before you are supposed to leave for vacation. Stuff Happens. So now, we always have trip insurance.
We purchase annual coverage, so we don't have to think about it when we are running off for a weekend. As you can imagine, over the years, we've had the unfortunate opportunity to test it out, from emergency room deductibles for a spill off a bike to luggage taking a trip to Germany when our flight stayed in London. In our opinion, the cost of the insurance is well worth the peace of mind and assistance we've received when necessary.
Here are 5 Reasons We Always Buy Trip Insurance:
Anyone who's ever travelled via plane knows 2 things that you can't consider a definite: Flights arriving on time and luggage arriving with you.
Flights are not always on time. Delays happen, connections are missed, flights are cancelled. You may not get to your vacation or meeting in time – or even on the day you planned to arrive. This is what travel delay benefits are all about. So even though you may be stuck overnight and might miss those delicious croissants you were looking forward to for petit dejeuner when you arrived in France, you will at least be able to get coverage to get a good night's sleep in a hotel and breakfast before you head back out to your rescheduled flights.
Luggage sometimes decides to take a different vacation than you and might not to show up on the baggage carousel at the other end of your flight. Baggage Delay coverage usually kicks in if you and your luggage are not reunited within a certain number of hours (depending on your insurance plan).  When this happens, if you have to go out and get another dress for Cousin Susie's wedding or replace your favorite cowboy boots so you can attend the hoe down at the dude ranch, you can send in your receipts for reimbursement.
Your "Great Health Insurance" May not be so Great When You are Traveling:
Your health Insurance plan may not cover you while you are Traveling: You never know when you or your travel companion(s) will become ill and need medical attention. If you are traveling out of your home country, your insurance likely won't cover any treatment or exams. Some plans won't even cover you if you are out of state.  Medical and Dental coverage can be a lifesaver if a problem occurs overseas.
You Saved Up and Invested in the Trip of a Lifetime- What if You Can't Go?
Sh*t Happens. No matter how much you plan for various situations, sometimes things come up that are beyond your control. A family member gets sick and you need to stay behind to care for them. A family member becomes seriously ill or passes away. You broke your foot the week before your hiking trip. Tour Operators and Airlines have cancellation policies to ensure that when someone cancels last minute and they've already paid for fixed costs for the tour, they are not stuck out of pocket.  If you have protected your investment properly, Trip Cancellation coverage will often reimburse for the costs of the trip based on policy limits for covered reasons.
The Cost of Medical Evacuation can Make First Class tickets seem like Chump Change
If you have an injury or illness while traveling that requires you to be evacuated to a medical facility elsewhere, medical evacuation coverage can reimburse for what can be super expensive flights
While travel insurance previously did not cover claims related to pandemic situations, Covid changed that and many companies now cover some pandemic-related claims. Two of the companies we use personally (and which are available through our travel agency -The Vacation Artists) have been good about offering coverage for things like medical related expenses, some quarantine issues, etc.  However, it is always important to read your policy for the definitions of "covered reasons". When in doubt, call the insurance hotline number provided with your policy.
If you are interested in more information on travel insurance, feel free to contact us and we will do our best to assist.
Regardless of where you buy your travel insurance, whether online or through a travel agent or your own insurance agent, WE HIGHLY RECOMMEND THAT YOU PURCHASE TRAVEL INSURANCE PRIOR TO YOUR TRIP. Stuff happens. The peace of mind that comes with travel insurance is, in our opinion, priceless.