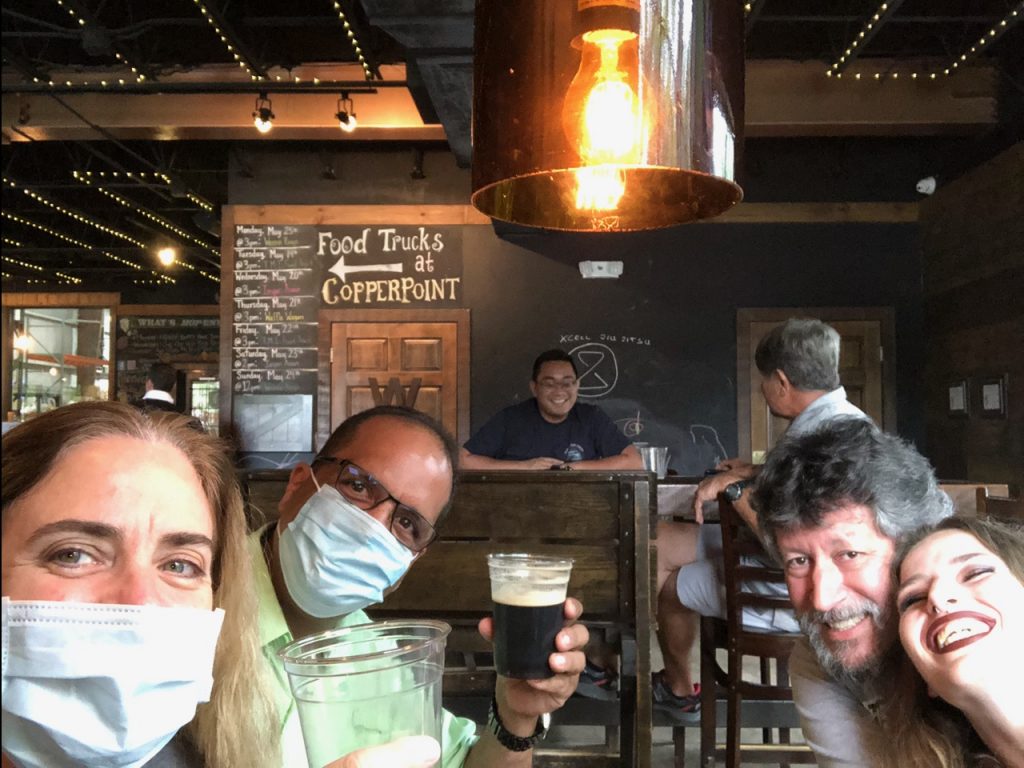 Is there a silver lining in the COVID clouds?  Maybe the best way to get through this is to try and look at what you might be able to gain from the situation … other than extra weight from eating all of the stuff you've been baking with your newfound skills!  Some of us have gained extra time to catch up on projects saved for a rainy day, some of us now have the opportunity for our favorite local beer delivered to our doorstep to drink any time we want. Some of us have new gardens, others have taken classes or picked up an old hobby again. Some perspective on what is possible right now vs what we are missing could be the game changer we need to get through this.  Here are some beer focused opportunities you might want to consider:
Supporting your local breweries and pubs benefits both them and you! Many breweries are offering curbside pickup and delivery. Some are offering great deals on special six packs or discounts on gift cards for future use. Others have already reopened and offering socially distanced options. So, whether you are still quarantining or out and about practicing safe sips, you can still drink your favorite locals and help ensure that they are there to stay when we get past the craziness!
Now is a great time to study for your BJCP or Cicerone Certification.  There are lots of online opportunities our there for learning, from podcasts to livestream FB events. The Cicerone Certification Program has a bunch of great videos on of You Tube, including a series of videos to help you study for the Certified Beer Server.
Always wanted to try homebrewing? What better time than now to give it a try? Wouldn't it be great to have some of your own beer to go along with the homemade sourdough bread you just made?
Try cooking or baking with some beer – infused recipes. How many times did you read one of those great recipes that you might have found in beer magazines of the past or online sources and said to yourself, "one of these days, I'm going to try this!" ?  We guess what? We are now experiencing "one of those days"!  There are all kinds of fantastic recipes for everything from beer brined Thanksgiving turkey to Guinness brownies.  And if you haven't made your own beer bread yet, well, you are missing out, plain and simple.  There are so  many cool and easy recipes out there that are worthy of investing a little of your beer.  Many of them don't require the whole bottle either, so you can drink the rest! So what are you waiting for? Get that oven preheated and get to work!
Online Beer Tasting Classes- now you can attend our Cybeer Tasting Classes from wherever you are in the world! Our online cybeer tasting classes are now run every 2 weeks.  The fact that we are online means there is no drive time to get there so it likely works with your schedule, even if you are not working remotely, plus you don't have to worry about a DD, since there is no drinking and driving. Plus, you can attend from anywhere in the world so we've been thrilled to have new beer lovers as well as  beercationers from all over the country join our local beer tasting students and get to socialize on our zoom platform. We cover different styles each session and our online tastings spend more time on one beer style, allowing us to go deeper into things like the history of the style, proper glassware, etc.  You get to choose the beer you want to taste within the style guidelines we send out, so you can try a new beer or maybe go with an old favorite. And best of all, the price is right- it is a pay what you like platform
We hope you are all staying safe and finding creative ways to make the current situation work for you in a manner that is within your own comfort level and in as positive a fashion as possible.   How much has beer been a part of your COVID experience?  In what way? Have you come up with some creative ideas that you'd like to share with others?  Email us your thoughts-we'd love to hear from you!