It always surprises me how excited people get when we tell them that we have a beer tour company and take people on Beercations for a living. There are so many craft beer lovers with a desire to delve deeper into the beer community and make beer more than a hobby that I decided to take a look and see what was out there for those interested in a career change to beer. (I sometimes refer to my career change as my mid-life epiphany.)
Not surprisingly, there are currently multiple beer-related jobs in all 50 states as well as Washington DC. What is neat is that these jobs run the gamut from Brewer at BrewDog in Columbus, Ohio to Sign Holder at Koholā Brewery in Hawaii, where the job description reads : Hold Sign Front Street / Papalaua Corner and point people to the brewery.Which goes to show there is something out there for everyone.
So, whatever your skill level, interest or desired location is, if this is your passion- go for it. Life is too short not to follow your heart, passion and taste buds. And if by chance you follow a lead from this article that leads to a position, shoot us an email and let us know, we'd love to hear about it! Cheers!
Please Note: All job links were current as of the time this article was written. That means hop to it or someone else may end up with your dream job!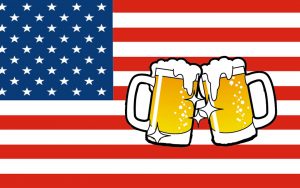 Beer Jobs