The Beercation Collaboration – A One-of-a Kind Surprise Collab
By Ruth Berman
What I love most about being part of the beer industry is the cool folks I have met and many friends I have made. It is also a great feeling when I see new friendships made among my guests and between those friends I have helped connect along the way. Some of these connections have even led to international collaborations brewed by friends from either side of the pond.
Collaborations are something that are a special part of the beer world and I like to think of them  as a celebration of friendships created over shared passion for craft beer. As a non-brewing member of the beer world, the one thing I've always regretted was that I never had the opportunity to do a collaboration with any of my brewer friends. However, last October, during our Amsterdam to Bruges Beercation Cruise, this changed in a pretty fantastic way.
Ever since our very first Beercation Cruise in Belgium, we've been taking guests to visit Kris and Els Herteleer at their brewery to learn about the story behind De Dolle Brouwers and of course, sample some of their amazing beer.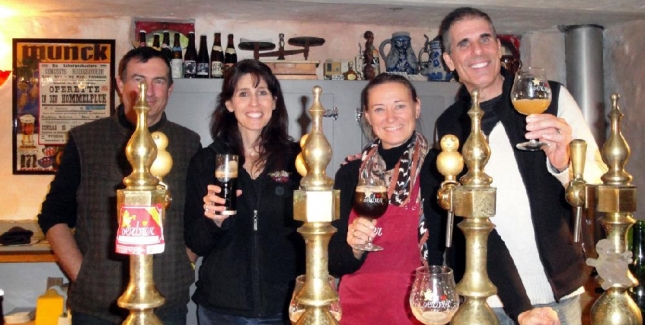 Our visit to De Dolle is always special for me because Kris is not only an amazing brewer, but an incredibly talented artist. His paintings are displayed around the brewery and tasting room; so if you are an art lover, you get the bonus of visiting an art gallery within the brewery!  I sketch and paint -or at least try to 😉 as well, and often paint pictures of breweries we visit on tour.
In fact, after one of our first few tours at De Dolle, I painted this small watercolor of the brewery as it appeared back then. (Fortunately, my painting skills are slowly but surely improving!)

Over the years, we have come to know Els and Kris as friends and while our guests are enjoying their beer in the tasting room, I always take the opportunity to catch up with Els about life and chat a bit with Kris about the latest art projects that he or I am currently working on.
During this particular trip, I had sketched a portrait of one of my guests, but felt like it was missing something.

Fortunately, we were heading to De Dolle just as I had hit my sticking point on the drawing. After the group had toured the brewery and we were hanging out enjoying our beers in the tasting room, I showed my sketch to Kris and asked what he thought it needed to finish it off. He took one look and immediately ran upstairs to his studio and came back down with his paints.
Next thing I knew Kris was adding paint to my
drawing…
and viola…     A Beercation Masterpiece! 

I finally have my collab with a brewer friend. A spontaneous concoction brewed up in Belgium- and a collaboration like no other.

col·lab·o·ra·tion
kəˌlabəˈrāSH(ə)n/
noun
1.  the action of working with someone to produce or create something
I guess you never know what amazing things are going to happen on Beercation!

Thanks and Cheers, Kris!