One of the highlights of this year's Sip & Savor Provence tour was a 5-Course Beer vs Wine dinner at the Michelin-starred Restaurant, La Mère Germaine, in Châteauneuf-du-Pape.
Some things are just meant to be – and this was one of those things. I was on a familiarization trip with wine tour operators hosted by Atout France -France's Tourism Development agency. (Yes, you caught me, I was cheating on beer with wine!) We were visiting various wineries, restaurants and other vino-centric tourism locations in Provence. While touring La Mère Germaine, a boutique hotel with a Michelin-starred restaurant in Châteauneuf-du-Pape, we were introduced to Christophe Hardiquest, the chef. As it turns out, Christophe is Belgian and previously had a 2-star restaurant in Brussels, which he closed so he could concentrate on new projects in France, Switzerland and eventually, back in Brussels.
Despite the fact that we were there to discover wine-centered options for our guests, the gears started whirring in my beer brain and I asked Christophe if he had ever done beer pairings with his meals. Responding as any self-respecting Belgian should with "Of course!" he went on to mention some well-known Belgian breweries- including Cantillon- and I knew I had found what would be the highlight of my new Provence itinerary.
Although our Provence tours tend to be mostly wine-focused, we always try to slide in a little beer here and there for our beer-loving guests. But pairing food with beer in Chateauneuf du Pape, one of France's most well-known wine regions,  would be something quite unusual and likely not an idea easily welcomed by the restaurant management.  However, a beer vs wine dinner (or wine vs beer, if you prefer) would showcase the best of the best with the best!
Anyone who has hosted or attended a food/beer or food/wine pairing knows that the idea of a pairing is to create something new, i.e., 1 and 1 make 3- or to make both the food and the beverage shine in ways they would not on their own.
After a number of discussions, the oenotourism manager, with the help of Chef Christophe, was able to convince the owners of the winery/hotel/restaurant that this was something that could be executed with amazing results at La Mère Germaine.
Chef Christophe created a menu specifically for our event. (It was DELICIOUS! See menu and photos below.) We let the sommeliers, the chef and his team decide upon the wine pairings. We collaborated with the chef and his team on the beer pairings. We decided to go with Belgian beers since the chef and his team had access to and first-hand knowledge of a wide variety of Belgian beers, so this would make pairing suggestions easier for all of us.
Following, you will find the menu, along with photos from our evening. Every single course was amazing. Things we never would have thought to order are now on our menu radar!
We'll let you think about the pairings and come to your own conclusions; but we will tell you that in the end, we tallied our votes and believe it or not- it was a tie between whether beer or wine paired better with the meal overall! The beer lovers learned a little something about wine and the wine lovers learned a bit about beer. And we all enjoyed a spectacular one-of-a-kind experience that evening. We can't wait to return next year during our Sip and Savor Provence Tour!
La Mère Germaine
Châteauneuf-du-Pape
Beer vs Wine Dinner for Bon Beer Voyage/World Wine Travels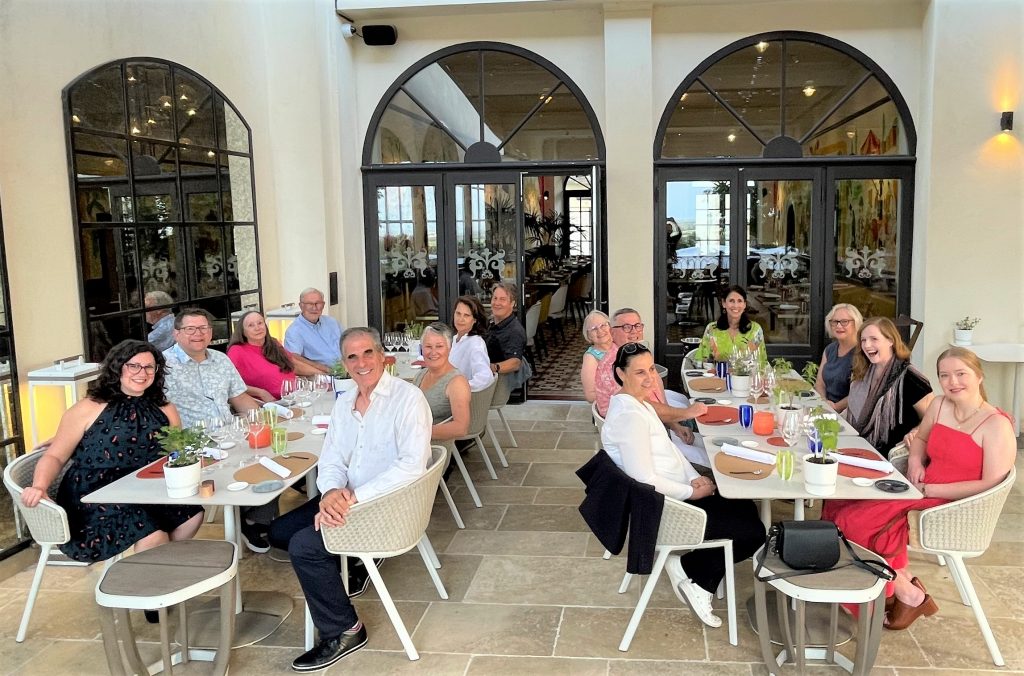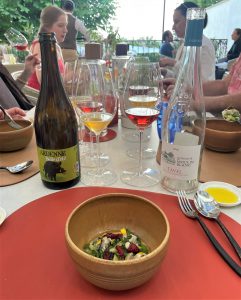 1st Course :
Blanc-manger d'huître Tarbouriech, risi de haricots aux tagètes et framboise
Wine: 2020 Domaine du Moulin Blanc – TAVEL – Rosé
Beer:  Ardenne  Belle d'été – Brasserie Minne, (Baillonville,  Belgium) – Double Witbier – 6% abv
2nd Course :
Tapis rouge de poivrons, granité à la groseille rouge, voile végétal de capucine
Wine: 2020 Domaine de la Pousterle – Luberon- Cuvée Isabelle –  Blanc
Beer: Saison Dupont Biologique  – Brasserie Dupont, (Tourpes, Leuze-en-Hainaut, Belgium) –  Saison – 5.5% abv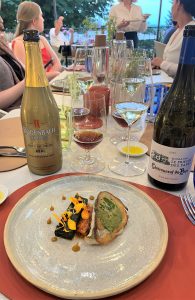 3rd Course :
Dorade Royale croustillante de Mathieu Chapel, marinière de tomates aux moules de Camargue, pressé d'épinards fleuris
Wine: 2021 Domaine Le Prieure Des Papes – Chateauneuf du Pape – Vielles Vignes – Blanc
Beer: 2020 Vintage Rodenbach – Foeder N 138 – Brouwerij Rodenbach, (Roeselare, Belgium)  Flanders Red Brown Ale – 7% abv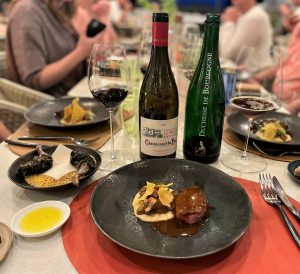 4th Course :
Pigeon fumé au bois de cade, bihia de maïs ancien Arto-Gorria, girolles en escabèche, jus court au miso de pois chiches
Wine: 2021 Domaine Le Prieure Des Papes – Chateauneuf du Pape – Vielles Vignes – Rouge
Beer: Duchesse De Bourgogne – Brouwerij Verhaeghe (Vichte, Belgium) – Flanders Red Brown Ale – 6.2% abv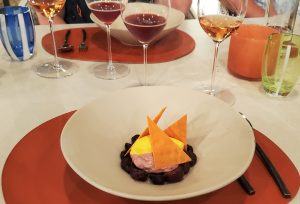 5th Course :
Zéphir de cerises Burlat en kriek, glace au safran du Luberon
Wine: Domaine de Coyeux – Enigmae- Muscat de Beaumes de Venise
Beer: Cantillon Kriek 100% Lambic Bio – Brasserie Cantillon (Brussels, Belgium) – Lambic –  5.5% abv

After the Dessert, our guests were treated to a fabulous dessert beer (along with some small sweets- what we like to call "the dessert after the dessert"!

Chimay Grande Réserve Fermentée en Barriques – 02/2022 – Chêne français, Chêne américain, Whiskey
Un Grand Merci et Bravo to Chef Hardiquest
and the Team at La Mère Germaine!