Beer has been intertwined with America's history from the start and soon it will be officially recognized for its contributions to our nation's history in the Smithsonian's National Museum of American History in Washington, DC.
Even if you are not a history buff, you'll likely get a kick out of some of the stories of beer's influence in America. Here are a few that make great cocktail party – wait- make that great beer party conversation.
The Pilgrims Landed on Plymouth Rock because They Ran out of Beer
An often told beer tale is the story of the pilgrims landing at Plymouth Rock because they ran out of beer. While this isn't exactly how things went down, beer was a necessary part of the journey leading to the naissance of this country.
The Mayflower was actually a bit off course, bringing it to New England rather than its original target of Virginia. Stores of beer were running low due to the timing of the trip and the Mayflower would have to remain docked until winter passed before it could head back across the Atlantic. The captain convinced the Pilgrims to debark there so that he could ensure there was enough beer for his crew to stay hydrated through the winter and survive the return journey. This did not make him very popular with the Pilgrims, but then again, he didn't have to sail back across the ocean with them.
Home Brewing Presidents
While everybody from the Today Show to the NY Times got excited over beer being brewed in the Obama White House, presidential brewing is not something new. It is well documented that a good number of our founding fathers and mothers were homebrewers. Washington's own handwritten recipe for "small beer" can be found in the collection of The New York Public Library. (Although, according to reports by some who have attempted to follow this recipe, it is probably a good thing that brewing techniques and recipes have evolved along with our country.)
Swilling the Planters with Bumbo
Beer and Politics have long been bedfellows. In Washington's era, buying beer and liquor as well as food for voters was a popular and effective practice on election day. In Virginia, this was referred to as "swilling the planters with bumbo" (bumbo was a type of rum). George was not a proponent of this practice the first time he ran for- and lost- a seat in the Virginia House of Burgesses. He changed his tune the second time around, treating voters to about 160 gallons of booze of which almost 1/3 was beer, and the rest is literally history.
George Washington Supported Drinking Local
Despite George and Martha's home brewing abilities, Washington supported the American economy by buying beer both for personal consumption as well as for entertaining guests- possibly making him the first supporter of "drinking local" way before it became hip. In a 1789 letter to the Marquis de Lafayette, he wrote "We have already been too long subject to British prejudices. I use no porter or cheese in my family, but such as is made in America; both these articles may now be purchased of an excellent quality."
This Would Be a Good Time for a Beer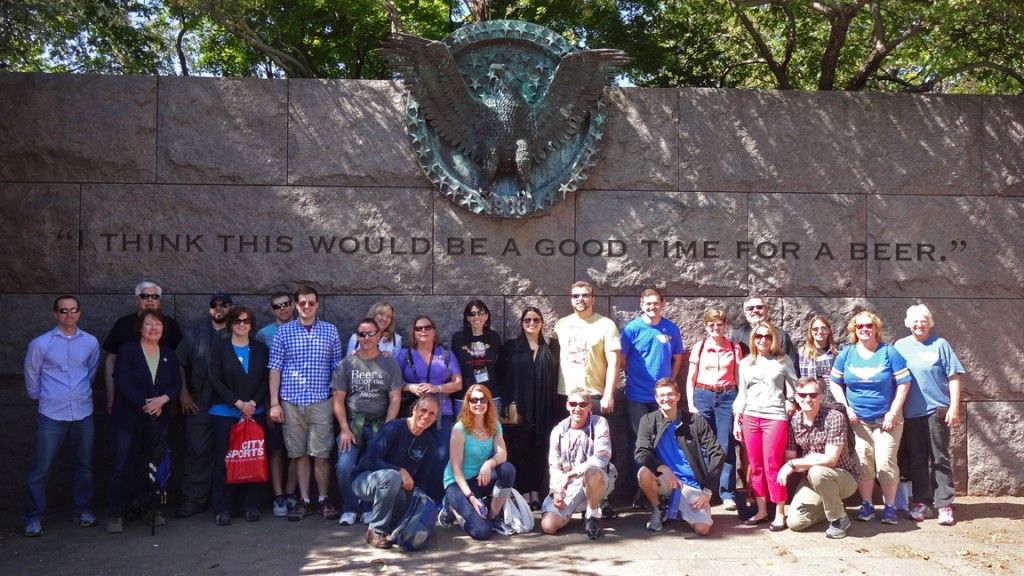 If you visit the FDR memorial in Washington DC, you will see a number of his quotes etched into its granite walls. Beer geeks will agree that one of his most famous quotes is missing, leaving out a part of history that many of us feel is as important as his other achievements.
FDR was quoted as saying, "I think this would be a good time for a beer" after he signed the Cullen-Harrison Act allowing the manufacture and sale of (3.2%) beer for the first time since prohibition began, quenching the thirst of beer drinkers months before Prohibition was officially repealed by the 21st amendment.
Soldiers Safely Sipped Suds in Camo Cans
In WWII, the brewing industry played its patriotic part in numerous ways, from promoting the sale of war bonds via ads on the labels of beer bottles and coasters, to shipping cans of beer to the soldiers overseas to help boost their morale. Some breweries even made it a point to have their beer sent to the soldiers overseas who had been part of their local market so they'd know the folks at home were thinking of them.
While the wartime rationing of metal stopped the production of beer cans for public use, they were still produced for the troops. The cans that were sent overseas were labeled "Withdrawn Free of Internal Revenue Tax for Exportation" or something similar and were colored a drab shade of olive. The dull coloring ensured that the metal did not serve as a shiny, reflective target for enemy aircraft. The cans are referred to as camo cans and today are highly sought by brewerania collectors.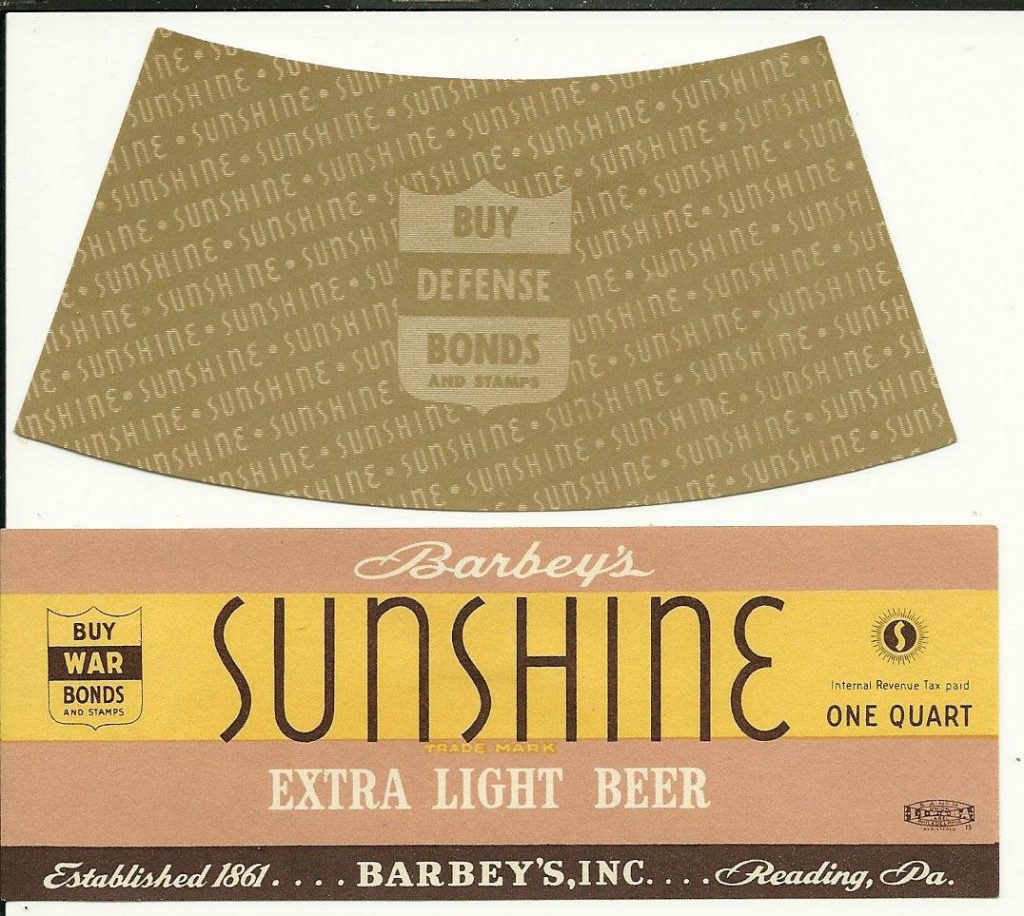 Beer and America's Heroes
Bon Beer Voyage makes it a point to share some of the local culture and history on every Beercation and Beer Safari tour. Beer-centric anecdotes and stories of our American forefathers and heroes are related during The Washington DC Beer Safari Weekend via a one-of-a-kind tour of the monuments known as The Monumental Beer Tour.
Brewers Association and The Smithsonian Recognize America the Brewtiful
Beer always has been- and continues to be- part of the fabric of America, so it is only fitting that it will soon take its place among other symbols and stories reflective of life throughout history in America, from the Star Spangled Banner to the Ruby Slippers.
During the Craft Brewer's Conference in Philadelphia at the beginning of this month, The Smithsonian's National Museum of American History announced that they were launching "a three-year initiative to collect, document and preserve the history of brewing, craft brewers and the beer industry to explore how the beverage and brewing connect to larger themes in American History"
The Smithsonian already has a good number of important collections which relate to beer and brewing in the USA. They include brewing equipment, photos, taps, and brewerania such as bottles, photos, advertising pieces. The majority of the collections date from the 1800's to the 1960s. The Smithsonian is now looking to grow these collections to include stories of the brewers who have created what has led to the beer culture of today and the effects of this culture throughout the years on our nation's history.
The Brewers Association ponied up a pretty penny for this project and plans to be actively involved in gathering and documenting the stories of America's brewing saga. "The craft brewing revolution in America has had profound social, cultural and economic impact on this country" stated Bob Pease, president and CEO of The Brewers Association. He went on to call America "a beer destination".
America – a Beer Destination
If you've been on any of Bon Beer Voyage's tours in California, Florida, North Carolina and DC, joined any US based beer tours, or traveled through the country on your own visiting breweries or attending festivals, you'll know this is spot on. Beer is a culture worth exploring. In fact, this year's Beer Bloggers Conference will include a session on Beer Tourism. (Yours truly has been asked to be one of the participants on this panel.)
We look forward to including the Smithsonian's collections as part of our future beer tours. Meanwhile, The Bon Beer Voyage DC Beer Safari, scheduled for the end of August, promises to offer guests a look into DC's beer history during the Monumental Beer Tour and during a privately guided tour of the Victorian era Heurich House (aka the Brewmaster's Castle). A current take on beer in the area will be explored as well, during privately guided brewery tours and tastings and beer paired meals.