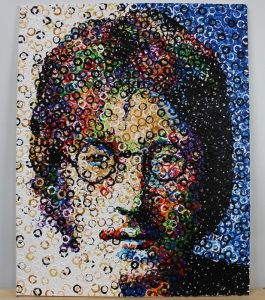 There are a lot of creatives among the beer loving community.  Art that somehow incorporates beer makes an fun hobby for some of us, while for others, it is actually a very cool profession.
This month's post highlights a team of painters who turned a simple idea into an amazing career!
Meet Alexandre Caillarec & Nicolas Thollot-Arsac, owners of NAART (Nicolas Alexandre Art)
When Alexandre sent me a LinkedIn request to connect a few years back, I accepted and immediately messaged him because I was intrigued with the title under his name: Painter & Creator of "Beerpainting"! What the heck was beerpainting, I wondered.  I use beer occasionally in my watercolor paintings, so I was curious.  While chatting on Linkedin, Alexandre sent me photos of some of his work. Wow! This was some cool stuff and totally not what I was expecting!  The unique style of painting Alexandre and his business partner, Nicolas, have created, is really fun and their paintings are pretty amazing!.
Take a look at some of their work and you'll see what I mean: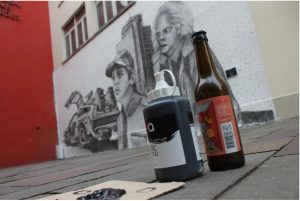 What is even more unique about their art is that they not only paint commissioned works, but they also paint live at events as performance artists, so people can watch as they create their masterpieces.  Their style, as you can see from the photos, is somewhat of a version of Neo-impressionism, what they call "Pointillism 2.0", created by beer bottles dipped in paint! Take a look at this short video of them in action:
I think it is pretty awesome that they've been able to take an idea like this and turn it into a business.  I wanted to share their story and their beerpaintings with you, so I asked Alexandre and Nicolas to tell us a bit more about their work.
BBV (RUTH): Do you work together on your pieces or does each artist work on his own?
NAART: We do big projects together like walls and big 'livepainting' but we do our little canvases on our own.
BBV (RUTH): By "little canvases" I am assuming you meant all the not-so-little large canvases that you paint that are not murals?

NAART: Yes. Exactly.
BBV (RUTH): How did you come up with the concept of beerpainting?
NAART: It was during our study in Paris five years ago now. We invented the beerpainting together during a working night . We just saw bottles and acrylic around them and decided to try to paint with them !
BBV (RUTH):  Do you always use the bottles from the same brand of beer?  I see some 1776 bottles in some of your photos, what kind of beer do you drink?  Do you have some favorites?
NAART:  We drink all beers, but we prefer craft beers.  We haven't got favorite beers but the best bottles for painting are the little ones .
BBV (RUTH):  What is the most fun event you have worked?
NAART: It was a private party in France. Always better when we can work and have nice moments in the same time .
BBV (RUTH):  What is/are the piece(s) you are most proud of? We like the ocean's piece we did on a walls of a restaurant in Pornichet(FR)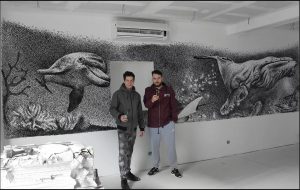 BBV (RUTH):  Is each piece entirely painted with the mouth of the bottle or do you ever use any brushes or other parts of the bottle? For example, the Popeye painting has some solid areas of color, such as his face, how was that done?
NAART:  All are done with beer bottles. We can do solid areas of color with a beers bottle! That's why our technique is very interesting and so complete. We never use brushes we do beerpainting so we have to paint with bottles only. We have to imagine and use all surface from the mouth of the bottle and it's possible to make all things we want on canvas or walls…
BBV (RUTH):  Where are you based right now? Last we chatted on Linkedin, you were headed to Canada and then on to the US.  I think you are back in France now maybe due to Corona?(virus, not the beer!)
NAART: Yes, due to the virus we are in France on the West Coast . We have so many projects in Europe and US and we are waiting for good news in order to come back in the art game as soon as possible because we want to exhibit our work all over the world. 
BBV(Ruth) And we can't wait to see you here and better yet visit your works around the world!  Thanks for taking the time to share your story with us.  Santé !