Recipe for a Belgian Stew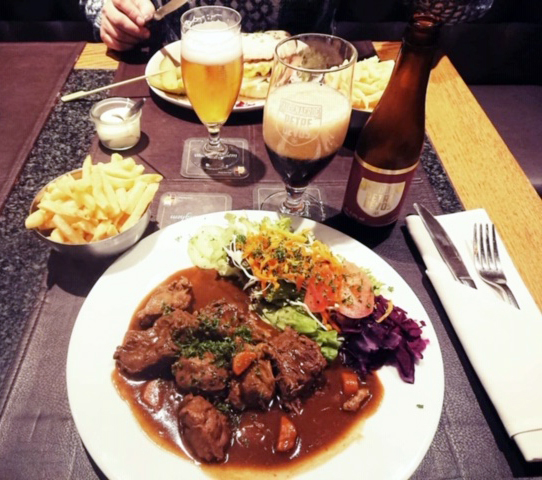 One of our favorite dishes when we are in Belgium is Carbonnade Flamande, also known as Vlaamse Stoverij or Flemish Stew.  Our onboard beercation cruise chef, Frank, was generous enough to share this recipe with us.
It makes a great meal for cool fall nights and must have experience when in Belgium.  Whip some up, pair it with some Belgian frites and a nice Trappist Ale and you will almost feel like you are on Beercation.
INGREDIENTS-Main course for 4 persons
:
2 kg thick rib meat (beef or pork) or pork/beef cheeks, cut into medium pieces
150 grams unsalted butter
2 tbsp olive oil
2 finely sliced onions
2 tbsp flour
2 cloves crushed garlic
Sprig of thyme
2 leaves Laurel
2 slices white bread
2 tbsp sharp mustard
1 bottle dark Trappist beer
400 ml beef broth, pepper and salt * If, like us, you plan to make the broth yourself, keep in mind that it should be in the fridge overnight before using it, so you have to make it a day in advance.
PREPARATION:
Remove the and excess fat from the meat and season the meat with salt and pepper. Put the olive oil together with half the butter in a casserole and brown the meat on both sides. Remove the meat from the pan and keep warm. Collect the moisture (jus) from the meat and set aside. Pour the fat from the pan, melt the remaining butter in the same pan and stew the onion. Add the meat, but keep the gravy apart. Add the flour, stir well and place the garlic, thyme and laurel. Spread the slices of bread with the mustard and place them in the pan with the mustard side on the meat. Pour the beer and the remaining gravy from the meat. Add the broth, and put the lid on the pan.
For the pork cheeks you cook everything in approx. 1.5 hours on a medium fire nicely soft. When you use thick stewing meat you stew everything on a in about 3 hours until soft. Bring heat up and then back down to simmer at a very low temp until done. Can be done in a crock pot as well. Remove the lid from the pan and allow the stem to boil to the desired thickness. If necessary, continue to taste with pepper and salt.