Easter and Passover Beers for Your Holiday Enjoyment
Hoppy Holidays!  Did you know that both Passover and Easter beers exist?  It's true.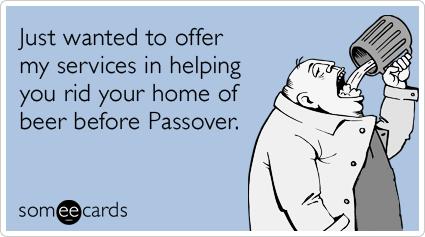 Move over chocolate bunnies, Gouden Carolus Easter is the treat that grown up kids are looking for in their goody baskets. 
| | |
| --- | --- |
| | According to their importer's website, "Het Anker Brewery brews a very special dark beer every year for Easter called Gouden Carolus Easter. This unique beer contains several types of malt and two different kinds of herbs to give it a very fine and well-rounded taste. It boasts a ruby red color and an impressive ten percent alcohol volume. This truly unique beer is a real delight, even for the most critical connoisseur. For ideal tasting, Het Anker recommends serving Gouden Carolus Easter cool and pouring it out gently in one swift movement."  |
And yes, it is currently available in the USA, but remember, only 2000 cases of this tasty treat are brewed per year, so grab it while you can!
Now Passover beer, that is another story completely. 8 days of Passover, but apparently only one Kosher for Passover beer to be found here in the US.
In general, beer is not Kosher for Passover because fermented grains from wheat, barley, oat, spelt or rye is forbidden. If you spend some time reading some of the many arguments about what makes beer or wine Kosher for Passover out there you will find that since wine ferments due to yeast which is a product of grapes, it is allowed. However, if you are a beer drinker, likely 8 days of Manischewitz isn't going to cut it for you.
This is where Ramapo Valley Brewery steps in.  Ramapo Valley Brewery is the only Kosher brewery in the United States and the only brewery certified Kosher for Passover.  Their answer to the grain situation? Honey.
| | |
| --- | --- |
| From their website: Our blue ribbon Honey Beer, the Passover Honey Lager is a unique honey-based, gluten free, brew using dedicated equipment that insures the integrity of the beer. People with celiac sprue who normally cannot tolerate glutens in their diet can enjoy this brew without any risk of discomfort. Nevertheless, the great, refreshing flavor can be enjoyed by anyone. This innovative brew is made with neither barley, nor wheat. The main fermentable is amber honey. Molasses is used for flavor, nutrients and color. Bright golden in color, the taste naturally has notes of honey and hop. Noble hops add a touch of bitterness to balance the honey sweetness. This beer is Kosher certified for Passover. | |
So, whether you plan on drinking Easter or Passover Beer or any other type of beer to celebrate the spring holidays, we wish you only good brews and good times with family and friends. Cheers!