Get Paid to Drink Beer!
What could be better than getting free Beer? Getting Paid to Drink Beer.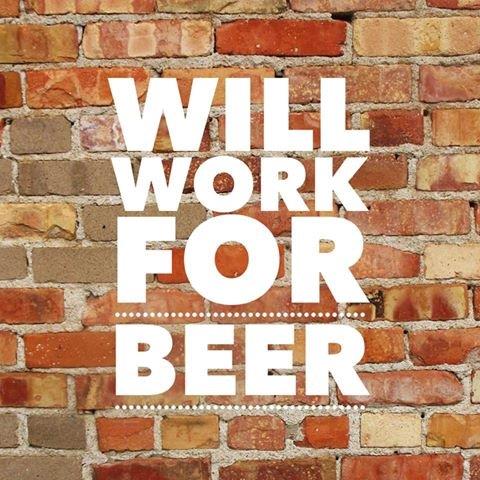 When people tell me that I have a dream career and want to know how they can become part of the fortunate world of people who drink beer as part of their job, all I can say is, if Mike and I, and even Laverne & Shirley could make it happen, so can you.  According to the Brewers Association, The Craft Brewing Industry Contributed $55.7 Billion to the U.S. Economy in 2014. The industry also provided more than 424,000 jobs, with more than 115,000 jobs directly at breweries and brewpubs, including serving staff at brewpubs. Not all industry jobs require – or even allow – drinking on the job, but there are certainly jobs that require some tasting of the product, so let's take a look at a few:
Professional Beer Taster
Yes, this is a real job – not just a tag line you'd see on a T shirt.  And don't assume just because you have been drinking beer since you stole your brother's fake ID when you were 16 that you are qualified for this profession. A trained palate is key, as is a knowledge of what goes into the making of the beers you sample and the ability to describe your impressions in a standardized manner.
How much does it pay? Data from the US Department of Labor lists the range between 11K and 33K per year. However, if you take a look at Jane Peyton, Britain's 2015 Sommelier of the year, you will see that maybe being a suds sampler in the UK pays a bit better.
See Jane. See Jane Drink. See Jane Drink Beer. See Jane Get Paid to Drink Beer.
Jane Peyton will earn 52,000GBP this year tasting beer for the pub company Taylor Walker.  Jane's journey over a number of cross-country ale trails will bring her to over 100 pubs to taste and review their beers in search of the perfect pint. Aside from this recent gig, Jane's full time career is no less beer-centric – she writes beer tomes and has a company which hosts beer events. Sounds like a good life to me! Read more about Jane here: http://www.express.co.uk/life-style/life/
Sensory Lab Tech
Think your palate is a finely tuned in to the nuances between good beer, great beer and forgettable beer? New Glarus is currently looking for a Sensory Lab Tech.  Amongst a host of other duties, the job description includes coordinating R&D tastings with an Expert Taste Panel. Of course, they suggest you have beer tasting experience (eg., BJCP, Cicerone™, or similar).And while I'm no lab rat, I would hazard a guess that this means you get to taste beer and who knows- maybe you can even wear a white lab coat and look official while you are doing it.
www.brewbound.com/jobs/19436-Sensory-Lab-Technician-New-Glarus-Brewing-Company
No data was available on what this sensory lab tech job pays, but a we did find a recently filled position as a Brewery Sensory Lab Manager that listed the salary range as 90-110K. 
Brewery Representative
Part of the standard job description for brewery reps is to conduct beer tastings, beer events and beer dinners.  In other words, they are getting paid to conduct and/or attend the stuff you pay to attend.  Some companies prefer their reps to be Cicerone™ certified and/or have experience with craft beer sales- but heck, if you love your brews, then you'll do what it takes. What does it pay? Here is one job listing that was recently up for grabs at $52,211 – $65,264:  https://abinbev.taleo.net/careersection/
No salaries listed on the links below, but Crooked Stave, Boston Beer Co and Stone are just some of the companies looking for reps from Massachusetts to Alaska:
Crooked-Stave-Artisans(CSA)-Distributing-Colorado-Springs-based-Sales-Representative
Careers/requisition.jsp?org=BOSTONBEER
www.brewbound.com/jobs/Regional-Brewery-Representative-Alaska-Stone-Brewing-Co
Reality is, it is not all fun and games and there is work to be done. But when you love your job, then it's not really work, is it?
Please note this article was written in 2015 and links might not be current