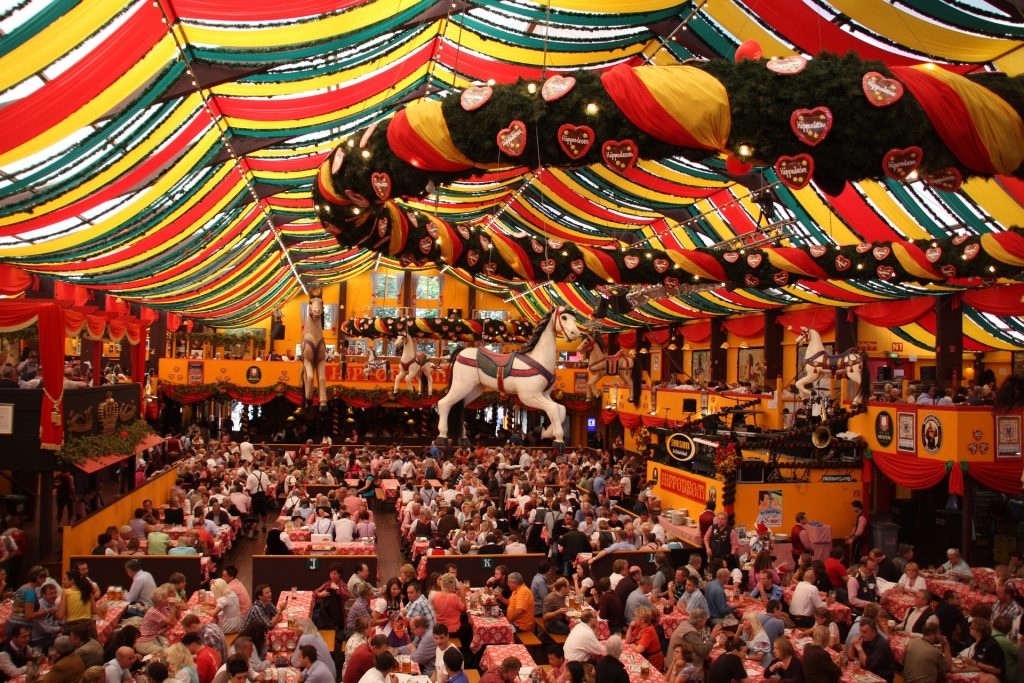 Munich's Oktoberfest will be cancelled for the second year in a row due to Covid.  This makes the 26th year the world's most famous beer fest will be cancelled.  Previous cancellations were mostly due to wars and epidemics, although financial crisis caused a cancellation one time as well.  Seems like a lot of cancellations until you do the math – only 26 cancellations in over 2 centuries of celebrating.
Bavarian officials and organizers of the event were concerned that the huge event held in massive tents was just not conducive to implementing social distancing, masks and other safety measures.  Rather than risk a surge leading to a superspreader event which could permanently damage the reputation of Oktoberfest, they decided the best course of action was to hold off for another year.
They have experience with this type of situation- making it understandable why they are not taking any chances:
In 1854 Munich had been stricken by a cholera epidemic.  The severity was downplayed by local officials in order to allow a previously scheduled industry exhibition to take place there.  The disease outbreak started immediately on the first day of the event and with 5,000 attendees daily, thousands died, including many locals as the disease circulated throughout the city. Among the deceased was Queen Therese, the bride of Ludwig I, who had been given the ok to come back to the city thinking it was safe. Yes- that Therese and Ludwig.  The couple whose wedding anniversary we celebrate every year with Oktoberfest.  As you can imagine, in 1854 there was no Oktoberfest, either.
With millions of thirsty folks waiting to drop some big bucks that have apparently been burning a hole in the pockets of their dirndls and leiderhosen, the UAE apparently decided to step up to the plate and create a similar fest in Dubai.
DUBAI?  Really?  Yes, Dubai. Seriously, if we learned anything during Covid it is that 1) nothing has to make sense 2) you don't need to be creative to tell an outrageous story, because 3) you really can't make this kind of stuff up!
The city of Munich appears to not be too happy with the media reports flying about the Dubai version.  They put out a statement confirming the original event is not being relocated and the Dubai festival is separate.
A spokesman from the City of Munich, the organizers of the Munich Oktoberfest, said: "The Oktoberfest is a Munich original and takes place exclusively in Munich. The plans that have now become known are not being pursued by the organizers of the event in Dubai either on behalf of or with the consent of the City of Munich."
The organizers were said to have stated they will "explore all legal options to protect Munich Oktoberfest" and that the idea of moving the festival to Dubai was "absolutely absurd".
While the traditional Munich Oktoberfest typically lasts 16-18 days and was slated to run from Saturday Sept 18th to Sunday October 3rd in 2021, the Dubai festival is supposed to start October 7th and run for six months – through the 31st of March 2022.
With 32 beer tents and a Ferris wheel, the Dubai organizers are trying hard to give their festival an authentic feel.  There will be German brewers and entertainers and of course, German beer and food.
The Dubai version will also include some of their own unique additions, like the 'world's longest beer bar', a 60-meter maypole and celebrity guests like Arnold Schwarzenegger and Pamela Anderson.
Sounds like an interesting event, but we think we'll hold out until we can return to Germany and drink our beer fresh with the locals. Meanwhile at the end of September we will be drinking local in Florida with our beercationers during our St. Augustine Beer Safari Weekend.
With borders opening and festivals starting to become live again, how do you plan to celebrate Oktoberfest 2021?