And in the latest news from Belgium:
Week of the Fries 2021: statue 'De Frieteters' pays a unique ode to our national culinary pride
Freshly baked, crispy and deliciously golden. Those are the words that come to mind when we think of French fries. As is customary, the last week of November has also been renamed Week van de Friet this year. During this 22nd edition, our national culinary pride is put in the spotlight. For example, the city of Bruges will be paying a unique tribute to our beloved chips from the chip shop for a year with the inauguration of the statue 'De Frieteters'.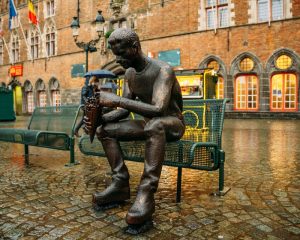 Statue 'De Frieteters' will be on Bruges Grote Markt for one year
Nowhere else in the world can you eat such delicious fries as in Belgium. The taste and smell of Belgian fries is unique, just like our chip shop culture, which has been recognized as an intangible cultural heritage for a reason. The chip shop is therefore ingrained in our streetscape.
And you can take the latter literally, because at the foot of the Bruges Belfry, next to the two iconic chip shops and the two local folk heroes Jan Breydel and Pieter de Coninck, a new chip monument can be found. The statue 'De Frieteters' enjoys a delicious package of chips with a view of the Bruges Market. A recognizable scene that will now be immortalized for one year. 'De Frieteters' invites you to interact. For example, you can take a selfie with De Frieteter, eat your packet of fries together, or 'steal' a fries from his cone.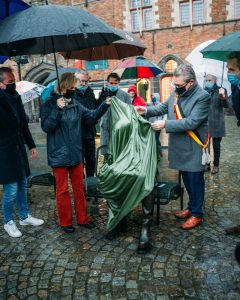 Unveiling of the statue 'De Frieteters' by Hilde Crevits, Dirk De fauw and Prince Laurent and representatives of Navefri, Belgapom and VLAM
Flemish Minister of Agriculture and Food Hilde Crevits: "Golden-yellow crispy chips from the chip shop. They are our trademark. What's more: our chip culture is part of our cultural heritage. Almost everyone has their favorite deep-fried fries, their favorite sauce, their regular order, their regular fries ritual… We all appreciate the baking art of our fryers, but also the whole experience that comes with a visit to the chip shop. Young and old, regardless of rank or position. This great chip culture is of course only possible thanks to our thriving potato sector. and with the 3.5 million tons of potatoes processed into French fries, mashed potatoes, chips and flakes. Now enjoy this beautiful Frieteters statue in one of the most beautiful places in Flanders!"
"Our fries, our national pride, deserve to be put in the spotlight at least once a year. With the Week of the Fries we want everyone to reflect once again on the taste and experience that are so unique about the fries. In addition to the inauguration of the statue, online attention will also be given to our national pride. Several influencers will share their frying adventure with their followers this week," said Liliane Driesen of VLAM.
About VLAM:
VLAM promotes the products of Flemish agriculture, horticulture and fisheries at home and abroad. VLAM is a private-law organization and works on behalf of the Flemish government and the business community. VLAM's promotional campaigns are largely set up per product or per product group; they are financed by the relevant subsector. In addition to the specific operation per product group, VLAM also carries out overarching promotion for our products. All communication to the consumer takes place under the 'Lekker van bij ons' logo.
Note from Ruth:  Any of you who have travelled to Belgium with us know exactly where this is and that this statue is sitting in my seat! Just sayin… 😉   Hope this brings back tasty memories for you all! Cheers!