Exciting News from our Friends in Belgium!
Brouwerij Rodenbach is celebrating its 200th anniversary with an anniversary book:
Rodenbach – History Poured in a Bottle – History Written in a Bottle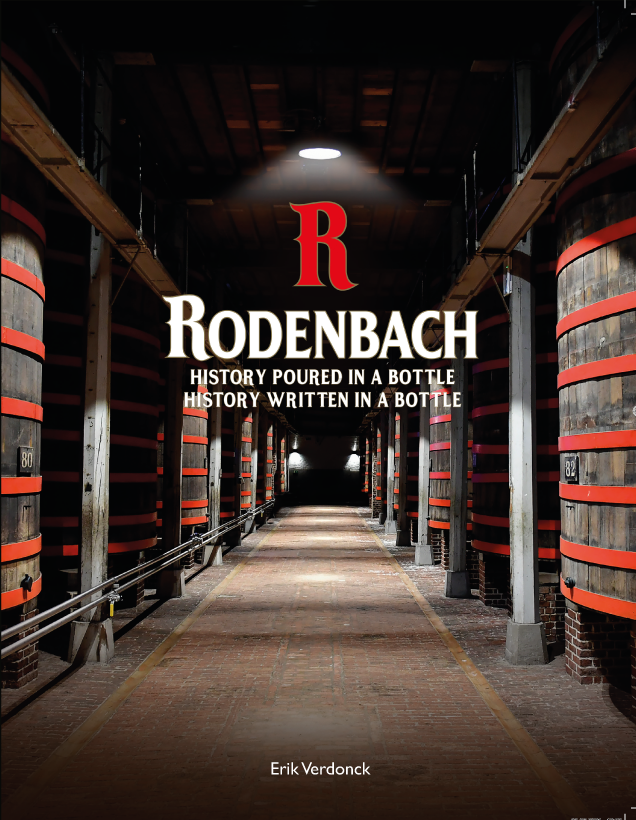 Brouwerij Rodenbach is celebrating its 200th anniversary. Alexander, Ferdinand Gregoor, Pedro and Amalia Rodenbach founded the Roeselare-based brewery in 1821. Today, in 2021, Rodenbach is the gold standard worldwide in Flemish red-brown ales. Rodenbach has grown to become a genuine classic of Belgian beer heritage and is famous both in Belgium and abroad for its unique flavor. This flavor is partly created by maturation in one of the 294 legendary oak foeders. Rodenbach has received more than 137 medals at leading competitions, thereby confirming its beer to be of the highest quality. To celebrate this anniversary, the beautifully illustrated, two-part anniversary book Rodenbach – History poured in a bottle – History written in a bottle is being released.
The first part of the book focuses among other on the beers, brewery, hospitality and catering industry, and culinary uses. The second part takes a closer look at the unique Rodenbach family, which boasts among its ancestors military figures, poets, writers, brewers, entrepreneurs, pragmatic revolutionaries and even politicians who played a role in creating Belgium. Author Erik Verdonck has captured this history and so much more for future generations in Rodenbach – History poured in a bottle – History written in a bottle (320 pages). This coffee table book will be published mid-June. Featuring 12 comic strip pages by Roeselare comic strip artist Jimmy Hostens and countless unique images from the archives, the book will be published by TDM and sold through Standaard Boekhandel and www.s-hop.be .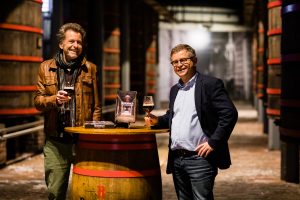 Auteur Erik Verdonck (L) & meester-brouwer Rudi Ghequire (R) – (Fotograaf portretfoto's: Maarten Devoldere)
Rodenbach – History poured in a bottle – History written in a bottle
Author Erik Verdonck summarizes each section:
                                   Rodenbach – History poured in a bottle
Flemish Red-Brown Ale
Readers will be given access to the secrets of the local Flemish red-brown ale. Rodenbach master brewer, Rudi Ghequire and beer sommelier, Luc De Raedemaeker shed some light on the aromas and flavors present. Tom and Joost Du Four from the De Heeren van Liedekercke beer restaurant and Rudi Ghequire examine whether Rodenbach beers have improved over the years over a tasting session. The Rodenbach Classic, Grand Cru, Vintage, Fruitage, Alexander, Caractère Rouge and the collaboration brew Vibrant P'Ocean are then presented, alongside comments from both domestic and foreign beer experts.
At the Bar and At the Table
The At the Bar section puts the spotlight on several hospitality and catering businesses that stock generous amounts of Rodenbach, while At the Table honors the culinary qualities of Rodenbach beers. Sommelier Guido Francque explains why Rodenbach and prawns go so well together. Chef Tim Boury from Roeselare-based restaurant Boury (**) suggests a three-course menu accompanied by Rodenbach beers, followed by Viki Geunes from Restaurant Zilte (***) in Antwerp. Viki Geunes knows the beers better than anyone, having helped master brewer, Rudi Ghequire, develop the Rodenbach Caractère Rouge.
The culinary section then features 10 chefs who love to use Rodenbach in a traditional recipe: Jurgen Maene, Gastropub Gaspard (Barvaux); Raf Sainte, De Gebrande Winning (Sint-Truiden); Thibaud Hermans, Villa De Torre (De Haan); Hendrik Dequeker, Locale by Kok au Vin (Bruges); Marcelo Ballardin, Oak (Ghent); Marjolein Rothuis, Billie's Bierkafétaria (Antwerp); Steven Hinnekens, Bistro Le Nord (Roeselare); Sam Van Houcke, Masté (Ghent); Ann Warrinier, Brasserie Oosterstaketsel (Blankenberge); Karel Knockaert, Tjop's Grillrestaurant (Knesselare). Cheese affineur Frederic Van Tricht highlights the best Rodenbach beer and cheese combinations. And last but by no means least, chocolatier Michel Eyckerman from Belcolade (Puratos) shows how the beers and chocolate go hand in hand.
Brewing, Malting and Distilling
The Brewing section covers the brewery's rich history. We travel back in time to the 18th century, when a brewery was already present at the current location on Spanjestraat. All the significant milestones are discussed: the foundation by the Rodenbachs, the sale to Pedro Rodenbach and his wife Regina Wauters, the installation of the steam engine (the first in Roeselare), the expansion works under Pedro's son Edward, the contribution to the quality of the beers by his son Eugene, the contribution of the directors Leon, Jacques and architect Bernard Lambert in the 20th century, the efforts of the previous owner, Jan Toye, to preserve the Belgian beer heritage, and the investments made by the current owner, Royal Swinkels Family Brewers. The brewery's most important expansion phases are also mapped out.
Brouwerij Rodenbach has 294 oak foeders that are used to mature the beer.
Rodenbach master brewer, Rudi Ghequire, outlines the importance of maturation taking place in wood. We also learn more about how the brewery's coopers maintain the foeders and build new ones, and how ancient traditions live on today. Here, too, you can read comments from both domestic and foreign beer experts. The section ends with a description of the brewery's on-site visitor center.
Malting deals with the former malt plant, featuring the protected malt tower as an impressive monument to its history. Finally, the Distilling chapter highlights a somewhat forgotten part of the brewery's story, focusing on the fact that the Rodenbachs ran a distillery – situated at another site on Spanjestraat – before launching the brewery.  Raymond Rodenbach, the son of Pedro Rodenbach and Regina Wauters, was the last Rodenbach distiller. Following his death, the distillery passed into the hands of Roeselare entrepreneur, Talpe. The timeline at the end of Rodenbach schenkt geschiedenis shows the milestones from the 18th century to today.
                                          Rodenbach – History written in a bottle
Rodenbach – History written in a botte tells the unique story of the Rodenbach family. Readers immediately come across a piece of national history, as Alexander and his brothers, Constantin and Pedro, played an important role in the birth of Belgium. However, the Rodenbachs cannot simply be pigeon-holed, as they each have their own story to tell. Business people or entrepreneurs, often visionaries, they believed in their freedom, were children of the enlightenment, hesitating between liberal and Catholic. Alexander, who lost his sight at a young age, started Brouwerij Rodenbach with his brothers, Ferdinand Gregoor and Pedro, and sister, Amalia. Alexander earned his spurs with his approach to teaching blind and deaf students, was a representative of the people of Belgium for almost four decades, and remained firmly committed to his region as mayor of Rumbeke.
Constantin Rodenbach became a doctor in Bruges, published writings on medicine and psychiatry, followed Alexander in opposing King Willem I and, as a people's representative, voted to remove the House of Orange-Nassau from the Belgian throne. As a district commissioner, he also transformed Sint-Niklaas and Mechelen into model cities. This citizen of the world then ended his career as a diplomat in Switzerland and Greece.
Pedro Rodenbach took over the brewery – and distillery – together with his wife, Regina Wauters. Regina was a brewer's daughter herself and actually ran both companies. Pedro was a fighter, accompanying Napoleon to Russia, later fighting against Napoleon at Waterloo for the Dutch and then leaving the Dutch army, supporting Alexander and Constantin in opposing King Willem I, returning the exiled Bruges revolutionary Louis De Potter to Brussels, and helping to liberate Belgium and establish order as a local commander in the capital during the kingdom's turbulent early years.
Alexander and Constantin Rodenbach had a way with words, managing to whip up the masses and immortalize their vision on paper. Georges and Albrecht Rodenbach later inherited that talent, with the French-speaking Georges becoming a star of the literary world in Paris. His novels Bruges-la-Morte and Le Carillonneur put Bruges on the global stage. Albrecht fought for the official recognition of the Flemish language, something that, after his death, gave him a mythical status as an advocate for Flemish emancipation. Albrecht aimed for a 'higher' Flemish culture, following in the footsteps of Goethe, Wagner and Shakespeare. He also sowed the seeds for the Flemish student movement. The timeline at the end of the historical section also shows the milestones from the 18th century to today.
Rodenbach – History poured in a bottle – History written in a bottle by Erik Verdonck is published by TDM and is available to buy from www.s-hop.be Hardcover edition: €29.95
A Huge Thank You to Rudi Ghequire for sharing this press release and photos!!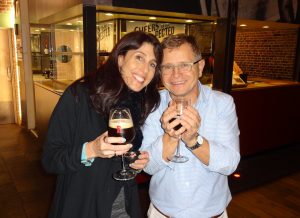 Those of you who have visited Rodenbach with us and experienced that fabulous beer paired dinner between the foeders know what a special place this is and what amazing beer they make. Looking forward to returning in October!