Room with a Brew
5 Inns/Hotels with Breweries On-Site
I am one of those truly fortunate folks who travels for beer as a profession. That being said, you can only imagine how my phone blew up with messages from friends making sure I was aware when Brewdog opened their Doghouse Hotel in Ohio.  And while they may have set a new bar (no pun intended) for brewery hotels, the concept is not new.  There are a number of brewery – inns all around the world where you can rest your weary head after indulging in the local suds.
If you are someone who likes to plan their own Beercation rather than join an organized group tour, here are a few places that you might consider for a stopover.
Too Cool For School
Apparently, Mcmenamins has a number of beer infused hotels in the Pacific Northwest, but the Kennedy School, located in NE Portland, OR has got to be the coolest. It is housed in a renovated 1915 elementary school.  Some of the guest rooms are in former classrooms and still have chalkboards and cloakrooms! And along with the restaurant, bars, movie theater and pool, there is a brewery – which is housed in what used to be the girl's bathroom!  Covered in crazy artwork, this is definitely a destination in itself, but even moreso considerinng Portland's awesome beer scene!

New England IPA or IPA in New England?
The Norwich Inn
, located in Norwich, Vermont, opened in 1797 and Jasper Murdoch's Alehouse (named for the original proprietor) has been brewing on property since 1993.  In 1995, the brewery outgrew the space it was in and moved into an historic livery building where it continues producing its beers today.   They offer some great getaway options for beer lovers here.  From a brewmaster's dinner – to a cheese and beer pairing – to a baking with beer class, you can create a stay that allows you a unique experience and an escape from the day to day. (Isn't that why you booked a weekend away in the first place?)
From Generation to Generation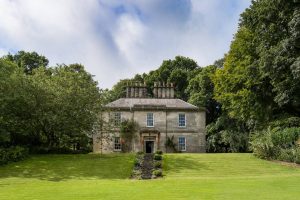 Traquair House Brewery- Innerleithen Scotland  Traquair Castle was originally owned by the kings of Scotland. It later became the home of the Earls of Traquair whose descendants still live there. Currently, Catherine Maxwell Stuart, the 21st Lady of Traquir, is running the 300+ year old brewery that her father had discovered and reopened in 1965.  At the time he was brewing with all the original equipment! Known as the oldest inhabited and most romantic house in Scotland, Traquair House also is open as a b&b with 3 rooms.  The brewery is located in the wing of the house directly underneath the chapel.  Even if you don't stay here, a visit to the grounds is possible and make sure to leave some time to get lost in the garden maze!
For fans of Belgian Beer, it doesn't get much better…
Brouwerij Het Anker

is well known amongst Belgian Beer Geeks for their Gouden Carolus beers. Staying at the hotel at the brewery has the advantage of allowing you to not only visit the brewery, but makes it quite convenient to eat at the tasty restaurant attached as well. And don't forget to leave some time to check out their nearby distillery – even if you are not a whiskey fan you can't help but admire the gorgeous hand-hammered copper stills.
A Serious Splurge-But Worth It:
The award-the winning brewery at Blackberry Farm in Walland, Tennessee is just the tip of the iceberg at this Relais and Chateau property in the Smoky Mountains.  This resort has so many awards and honors- from the food to the wine cellar and spa to the resort itself-  that the accolade section of their website is a downloadable 2-page pdf! This is the place where you go for a serious splurge, but nice to know that you'll be able to enjoy some outstanding beer to go along with the rest of your awesome experience!