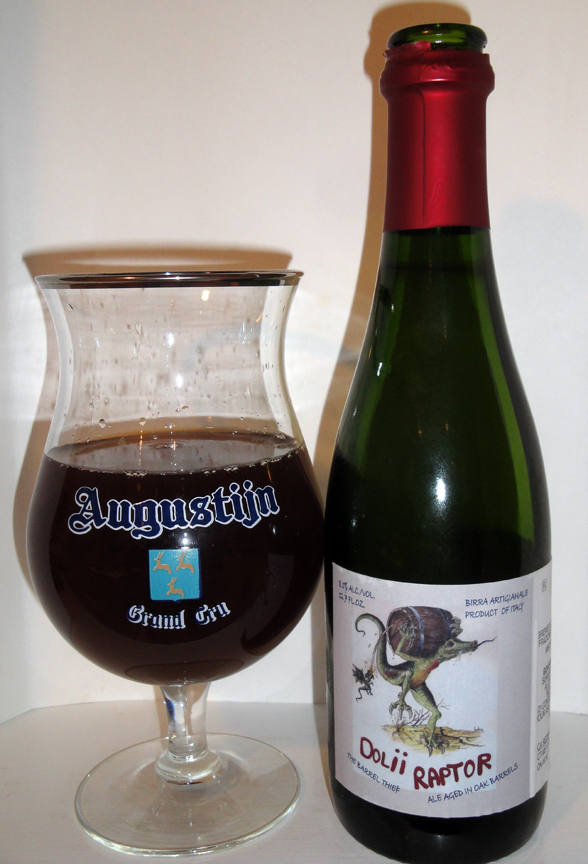 Name: Dolii Raptor
Style: Belgium Strong Ale
Brewery:  Birrificio Montegioco website
Country: Italy
Region: Montegioco
ABV: 8.5% abv
How served: 12.7 oz hard red foiled cap with a built in plastic mini corked bottle poured into an Augustijn tulip.    
My Overall Opinion: Good.

I paired this beer with:  Grilled salmon fillets with acorn squash.
Tasted on:  Monday July 1, 2013
Notes:  2009 Vintage
This bottle opened with a weak hiss. The pour revealed a murky deep mahogany color with only a few tiny bubbles on the surface.          
The nose was musky, with hints of oak, dark fruits and acidic.
The taste was oaky, woodsy & musky with notes of cherries, prunes and raisins.  There was a very light sweetness balanced with a light tartness, neither overpower the other. The beer finished dry with a slick, smooth warming mouthfeel.
This beer had a light to medium body with no carbonation.
Overall I like and enjoyed this beer.  Also for a beer which poured flat it was quite drinkable.  If this beer had a little more carbonation I would have bumped up my ranking to a Very Good!
On the Label:
The Barrel Thief.  Ale Aged in Oak Barrels.
From their website:
Dolii Raptor (alc. 8,5% vol., vintage 2009)
Prodotta con aggiunta, a fine bollitura, di mosto Prodotta invecchiando una Demon Hunter, per 10 mesi, in barrique (ex Barbera Bigolla di Walter Massa). Evidenzia un bel colore rubino, con riflessi ambra, quasi limpido. Il naso è liquoroso, articolato, con note di prugne, legno, fiori rossi, frutta sotto spirito e un sentore che ricorda un bosco autunnale. All'assaggio è calda, etilica, intensa; nette le note di miele di castagno, di frutta secca, di amarena, cacao. Molto rotonda, avvolgente, complessa, denota notevole lunghezza in bocca; nel finale emergono lievi note di radici amare. Birra complessa, etilica, evoluta. Abbinamenti suggeriti: per cucinare brasati, oppure con grandi formaggi erborinati.
Loosly translated into English:
Produced with the addition, at the end of boiling, the wort Produced aging a Demon Hunter, for 10 months in barriques (ex Barbera Bigolla Walter Massa).  Highlight a beautiful ruby ​​color, with hints of amber, almost clear.  The nose is fortified, articulate, with notes of plum, wood, red flowers, fruit in alcohol and a scent reminiscent of an autumn forest.  On the palate is warm, ethyl, intense, net notes of chestnut honey, dried fruit, black cherry, cocoa.  Very round, round, complex, denotes considerable length in the mouth; emerge in the final light notes of bitter roots. Complex beer, ethyl, evolved. Serving suggestions: for cooking stews, or with great cheeses.