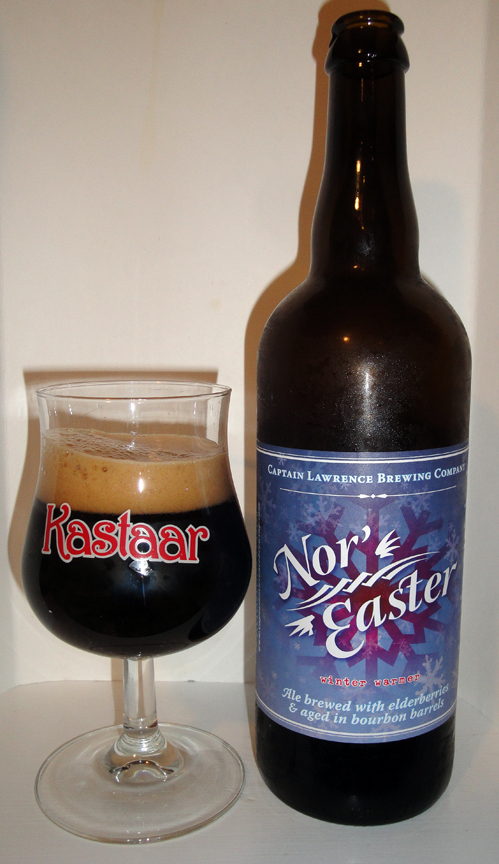 Name: Nor' Easter
Style: Winter Warmer
Brewery:  Captain Lawrence Brewing Company website
Country: USA
Region: Elmsford, New York
ABV: 12.0% abv
How served: 750ml cap bottle poured into a Kastaar tulip.    
My Overall Opinion: Very Good.

I paired this beer with:  Ziti topped with a sausage tomato sauce.
Tasted on: Tuesday July 2, 2013
Notes:  Batch #4 (bottled during the winter months of late 2009 to early 2010)
The beer poured a very dark opaque brown with a 1 finger light brown head which dissipated quickly laving no lacing on my glass.           
The nose included oak, bourbon, raisins/plums and slightly musky.
The taste was similar to the nose with mildly sweet dark fruits, berries, light bourbon, vanilla & oak dominating the taste.  There was a mild tart undertone by midpalate as well as a mild warming affect from the alcohol.  The beer finished clean and dry.
This beer had a light-medium body with a low carbonation level.
Overall this beer kept growing on me as it warmed. Very tasty and a great sipping beer & better left for dessert or after dinner then paired with a meal.  IMHO this is beer tasted like a hybrid of a Winter Warmer, Christmas Beer & a Belgium Strong Dark Ale.  I will be looking for this beer again in the future.
On the Label:
Ale brewed with elderberries & aged in bourbon barrels.
Winter is the time of year when the hearty, full bodied beers come out.  New York can get pretty cold in the winter, and what better way to warm up than with good craft brew.  This beer has undergone three fermentations and an aging period in freshly emptied bourbon barrels.  The first fermentation created a rich dark ale, using our Belgian style yeast.  The second fermentation was brought about by adding elderberries to the brew, imparting a vinous character to the beer.  And the third fermentation occurred in the bottle after the beer had finished aging in the bourbon barrels.  Straight from the Captain's cellar to yours, we hope it helps keeps you warm this winter.
Scott Vaccaro
From their website:
This is a truly unique brew, combining some unusual elements to create a powerful, yet flavorful brew. I brewed a similar beer to this one back in 1998, while I was home brewing out in California. Only this time around I decided to age it in bourbon barrels to add a new element to the already rich sensory profile. The combination of dark malt, elderberries and bourbon barrels makes for an interesting tasting experience. This is a sippin' beer, so sit back by the fire and enjoy. 12% alcohol by volume.
SENSORY PROFILE
Enjoy in a snifter. Overripe fruit, vinous, vanilla, roasted grain and coffee are a few of the characters you will taste with this monster. The hops fade away as the flavors of the elderberries and oak dominate the profile.
FOOD PAIRING
Chocolate is about the best thing to pair with this one. It can easily stand on its own as a night cap, but if you get hungry try it with some chocolate truffles.
Hops: Simcoe, East Kent Goldings
Malts: Pale, Chocolate, Munich, Special B, Roasted
IBU: 32
ABV: NA
OG: 25
Type of Glass: Other