Only 99 days before our week long Beer Tour & Beer-cation Cruise begins with a day of Beer Hunting in Amsterdam and a Brewery Tour at Brouwerij 't IJ.
Our week long Amsterdam to Bruges Summer Beercation Cruise starts on July 12, 2014.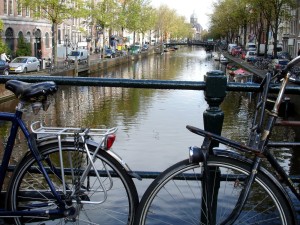 We'll start off with a private guided walking tour of Amsterdam. As we wind our way through various parts of town we'll learn about the history, architecture and sights of "A'dam" and finally end up at our first brewery of the week, Brouwerij Het IJ.
Here are some photo's from Brouwerij Het IJ:
Later on some Beer Hunting.  You can use my Amsterdam Pub Walking Map, join me, or just explore on your own.   Some of the beery place's I'm likely to be seen at include…
De Pilsener Club

My Amsterdam Pub Walking Map

at Engelbewaarder
Boon Oude Lambik
Rodenbach Foederbier &Palm Ongefilterd on Cask…Yummy

De Wildeman

Arendsnest
Where that have 30 different Dutch Beers on Tap!!!

Arendsnest The
What's on Tap Board
Highlights of this Exclusive Voyage…
♦ ENJOY…Unique regional brews in some of the most historic and best beer-stocked pubs.
♦ EXPERIENCE…the historical and fascinating cities of Amsterdam, Antwerp, Ghent and Bruges with guided tours & enjoy free time to explore on your own.
♦ VISIT… Beer lovers' "Meccas" such as Westvleteren, De Koningshoeven (La Trappe), De Molen, Brouwerij De Landtsheer (Malheur), Duvel Moortgat, Brouwerij Bosteels and more.
♦ SAVOR… Gourmet meals and cuisine a la bière prepared by our private chef on board.

♦ RELAX…it's your vacation! No driving! No figuring out where to eat or how to get from one place to the next! Unpack only once on our exclusive canal cruiser and get ready for the "beercation" of a lifetime!
Find out more about our Amsterdam to Bruges Summer Beercation Cruise Here!
Only 2 Cabins Left!!!!