Belgium and France Beercation Cruise Itinerary
Day 1 Bruges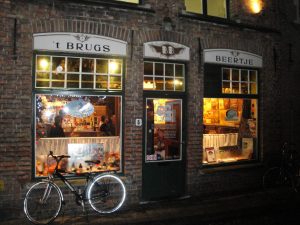 Today we start our beer tour by "drinking local" with the very entertaining tour and tasting at De Halve Maan Brewery. The view of Bruges from the rooftop here is pretty spectacular. Afterwards, you will have some free time to explore Europe's most perfectly preserved medieval city before our welcome aboard dinner. After dinner, those of you ready for some beer hunting are invited to join Mike, your beer guide, in exploring some of the historic local pubs that Bruges is known for among the beer cognoscenti!
Dinner
Book My Belgium & France Beercation Cruise
---
Day 2 Bruges to Deinze
Relax and enjoy a morning sail before our coach picks us up and takes us to visit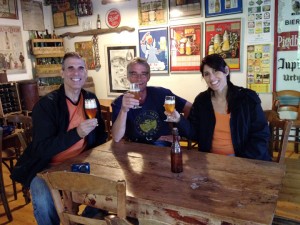 with brewer Daniel Thiriez at Brasserie Thiriez in France. Daniel makes some fabulous Saison style beers and we are often treated to his latest creations long before they are available stateside. His tasting room will make you feel like you've traveled back in time to a place where you will want to stay awhile. If we are lucky, his wife Marielle, an artist who is as talented at painting as Daniel is at brewing, will show you her work in her atelier in the brewery.
This afternoon we will head out to Ypres where we will visit the fabulous interactive Flanders Fields Museum and have a guided walking tour through this historic town, which was of great importance during World War I.
After our moving visit to the Flanders Fields museum, we obviously will need a beer; so we're off to visit someplace sure to cheer us up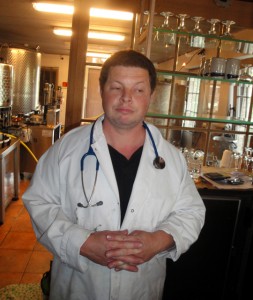 –St. Canarus. "Dr. Canarus" is quite the character and his beers reflect that- from his tasty Tripel to the "Virgin of Gottem"-a blonde beer which has a single hopflower added to each bottle by hand!
Interesting side note: Brian Strumke of Stillwater Artisanal Ales, from the USA, has done collaboration beers with both of the brewers we visit today.
Dr. Canarus also has a beer called Pere Canard. Canard means duck in French, but is also a term used to mean drunk. No worries if you are feeling a bit ducky though, you are on beercation! After our visit to St. Canarus our coach will bring us back to the barge for dinner.
Breakfast, Dinner
Belgium and France Beercation Cruise Itinerary
---
Day 3 Deinze to Kortrijk
This morning we can relax and soak in the scenery as we sail with the barge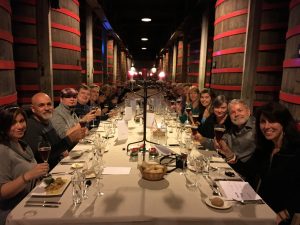 through lunchtime. Then it's off to drive through farmland and hop fields to St. Bernardus brewery for a tour and tasting of their world class beers!
More outstanding beer will follow after our trek through the hundreds of huge foeder barrels during our tour at Brouwerij Rodenbach in Roeselare. We will then be treated to a truly special event-a Candlelight Dinner in Between the Foeders – paired with Rodenbach, of course!
Breakfast, Lunch, Dinner Belgium and France Beercation Cruise Itinerary
---
Day 4 Kortrijk to Lille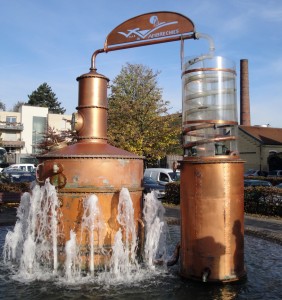 This morning, you are in for a real treat as we tour the fascinating and historic working distillery, Wambrechies. Here they make genievre, (also spelled genever or jenever) which is a gin based liquor. Wambrechies is also one of only 3 whiskey distillers in France. In addition, the company makes a beer which is made with genievre! (brewed in Belgium).
After our tour and -of course, tasting- we will explore Lille with a local guide. From the regal buildings in the Grande Place to historic Vieux Lille (the old city) you will be enchanted by the city often referred to as a "Little Paris". The rest of the afternoon is yours to enjoy lunch and explore; visit museums; or shop for everything from artwork to artisanal beer! (Yes, of course, we'll give you a heads up on where to find the beer!) We'll meet up later on to head back to the barge for dinner on board. This evening explore the nightlife in Lille on your own or join Mike to see what's on tap at Lille's #1 beer bar-La Capsule!
Breakfast, Dinner
---
Day 5 Lille to Douai
Today we spend the 1st half of the day in Belgium and then finish bac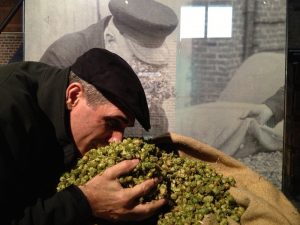 k in France. In the morning we will have a privately guided visit of Poperinge's Hops Museum. Afterwards, we'll enjoy a taste of the local Hommelbier and then have some time to wander through the main square in town before hopping (no pun intended) back onto our bus so we can head off to Beer Lover's Mecca- Westvleteren!
Here, at the In de Vrede Café, we will be able to sample some of the rarest and most popular of Belgian beers, the elusive Westvleteren 12s, known affectionately to many as "Westies". There is also a small gift shop where they sometimes have 6 packs available for purchase. If we are lucky, we'll be taking home some nice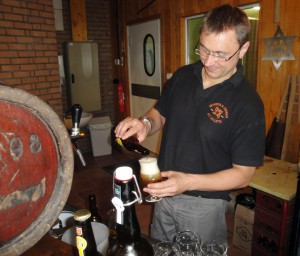 souvenirs!
Last, but certainly not least, we will head to Brasserie St Germain in Aix-Noulette, France to see our friend Stephane Bogaert, who owns the brewery with his brother Vincent Bogaert and friend Herve Descamps. Their award winning beers go under the name Page 24, the story behind which you will hear when we visit. After touring their surprisingly modern brewery we'll have a chance to taste their delicious beer in their tasting room, which is actually part-tasting room, part-museum; quite an interesting and fun to visit space! Tonight, we enjoy another delicious dinner onboard.
Breakfast, Dinner
---
Day 6 Douai to Valenciennes
Get ready for one truly amazing day! We're off to Chimay, where they have been brewing their awesome Trappist beers for over 150 years! Today we will be treated like beer royalty as we have the opportunity to visit the brewery, abbey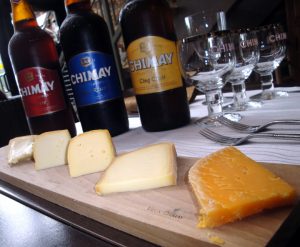 grounds & the Espace Chimay museum, as well as perhaps taste some beers that you can't find elsewhere! And, don't forget the cheese tasting- Chimay makes some incredible cheeses as well…and since all of this touring works up an appetite, there will be a gourmet lunch too! After our all-day visit to Chimay, we'll meet up with our barge in Valenciennes, France where we will enjoy dinner onboard. Optional after dinner walk to downtown with beer guide, Mike.
Breakfast, Lunch, Dinner Belgium and France Beercation Cruise Itinerary
---
Day 7 Valenciennes to Doornik (Tournai)
This morning we visit some more of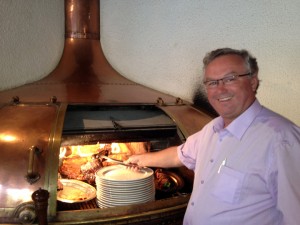 our French and Belgian brewing friends to tour their breweries and taste their offerings. Even if you don't speak French, we're sure you're going to agree that their beers are magnifique!
Today we begin our day in French speaking Belgium with a visit to Brasserie de l'Abbaye Des Rocs. At Abbaye Des Rocs they have been brewing top rated beers since 1979.
After a tour of this family run brewery and a tasting of their delicious beers in their charming tasting room, we will take a very short drive across the border into France. Here we will visit our friends Xavier and Alain Bailleux, a father and son team who make their award winning beers at Brasserie Au Baron. We'll start with lunch at their restaurant Au Baron, located streamside in the quaint town of Gussignies, France. The restaurant is owned by (and attached to) Brasserie Au Baron (Bailleux). The food and beer you will experience at this family owned establishment is simply outstanding. The restaurant's grill is even constructed from an old brewkettle! Of course, we'll tour the brewery as well.
After our adieus, we will head back to our barge in France for our Farewell dinner! After dinner, anyone finished with their packing and in need of just "one more for the road" is welcome to join Mike for a walk into town for some final beer hunting!
Breakfast, Lunch, Dinner
---
Day 8 Doornik (Tournai)
All good things must come to an end, so we bid you adieu after breakfast and say "A la prochain!" which loosely translates in French to "Until next time!"
Breakfast  Belgium and France Beercation Cruise Itinerary
---
October 17 – 24, 2020
Early Booking Prices!
Only $3194 per person Double Occupancy
Very Limited Availability of Single Occupancy $4085pp

The most convenient airports for this beercation are:
Arrival: Brussels Airport (BRU)
Departure: Brussels Airport (BRU)
Book My Belgium & France Beercation Cruise
---
Not ready to book just yet?
Email us or call 1-888-U-Go-Beer with any questions you have on the Belgium and France Beercation Cruise Itinerary !