St Augustine Beer Vacation Itinerary 

Day 1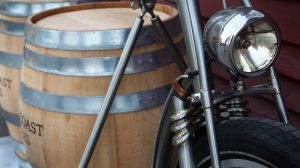 To commence our St Augustine Beer Safari Weekend, we will gather in the lobby to meet your tour director, beer guide and fellow beer voyagers. Then we're off to Old Coast Ales where you will find a wide variety of ales ranging from a selection of IPAs and Pales to Reds, Brown Ales and Porters. All of the beers on tap are brewed in house on their 7 barrel brew system. Seasonal beers rotate and include small batch brews crafted on their pilot system and may include the occasional Gose or Berliner or their infamous "Kookaburra" Brown Ale infused with locally roasted coffee. The foosball and shuffleboard tables add to the relaxed, fun vibe in this tasting room.
In the evening, we'll indulge in a seriously awesome beer-paired dinner at one of St. Augustine's most delicious venues! After dinner options include the chance to enjoy Saint Augustine's nightlife on your own or follow Mike, your beer guide, to a local watering hole for some more of what's good to drink in town! (or, of course, the hotel will only be a short walk away if you'd rather just call it a night!)
Dinner
---
Day 2
We have left this morning free so you may sleep in a bit, savor a second cup of coffee with your breakfast. You can also stroll over to check out the nearby Castillo San Marcos where cannon firings will take place throughout the day, or walk down George Street to do some holiday shopping. We will start today's itinerary with a trolley tour of our nation's oldest city. Our trolley driver will get us rolling around town to see some of the sights and tell us a bit about the history of the "ancient city".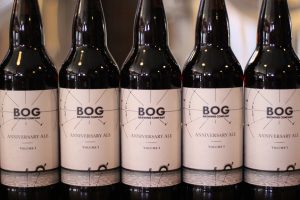 Once we have the layout and story of the city, we'll head over to Bog Brewing, housed in an historic pharmacy building. The exposed brick walls and large bay windows make for an inviting atmosphere where we can see the brewery and learn from head brewer and co-owner Steve Mendoza how Bog came to be while tasting some of his awesome brews.
Then we'll have some time to relax here and enjoy some lunch with our beer. Dessert after lunch? Why not? You are on Beercation, after all! So it is off to Whetstone Chocolates to see how this landmark factory makes their delicious chocolates and more importantly, how they pair with…Beer! Afterwards, we'll have some free time to walk off lunch and the chocolates before we end up at our last brewery visit and also o the location of where we have made some special dining arrangements!
Dog Rose Brewing. Dog Rose may be the youngest brewery on the St. Augustine scene but it is run by Doug Murr, who has the longest history of brewing in St. Augustine; he was the brewer at A1A Ale Works for many years, where he was our host to many a brewery tour and beer dinner "back in the day". His years of experience really show and his talent really shines through in the beers he is now brewing up for locals and tourists alike. After our visit and tastings with Doug, you'll have time on your own to chill and play some darts or other games in the brewery or go explore more of the town and all the festive holiday lighting that won St. Augustine recognition in the top 10 places for holiday lights by National Geographic.
This evening, we are changing things up from previous years and are working on surprise arrangements at a new location and menu for our spectacular beer-paired final dinner. Stay tuned for more info as we get closer! After dinner, join Mike, your Beer Guide to scope out the beer scene downtown, or maybe head out on your own to catch some live music and enjoy the festive scene in town.
Breakfast, Lunch, Dinner
---
Day 3
Enjoy breakfast at your leisure. Then, we'll meet in the lobby for the short stroll over to The Spice and Tea Exchange where our friend, Colleen, will be waiting to share some delicious Bloody Beers as well as traditional bloody marys. Sip and enjoy while you check out her amazing array of delicious spices and mixes. This is a great place to do some holiday and/or souvenir shopping and a special discount will be available for our beer voyagers. Afterwards, it is time to say farewell until our next beery adventure together. Feel free to use your trolley pass for a second day of riding around town, or maybe take the beach bus over to the beach for a few hours. The hotel will store your luggage if you are leaving town later in the day.
Breakfast
---
2019 St. Augustine Beer Safari
Nov 22 – Nov 24, 2019
Only $693 per person Double Occupancy
Limited Single Occupancy Rooms Available $972pp
Limited Triple Occupancy Rooms Available $629pp
Call for Quad Room availability & pricing
Book My St Augustine Beer Vacation
Email us or call 1-888-U-Go-Beer for more information on this St Augustine Beer Vacation Itinerary
---
Please Read our Terms & Conditions, and complete your Signature & Release Form before you travel. You will need to sign and then either mail or fax this page back to us at least 30 days prior to tour departure-thanks.
Our beer tour itineraries are subject to change due to unforeseen circumstances such as inclement weather, transportation problems, or an unexpected business closure. We're continually looking for ways to improve our tours and we sometimes come across a special new pub or brewery since the itinerary was published that we'd like to share with you.  Since our beer tours are planned far in advance, we may occasionally adjust the itinerary as necessary to provide you with the best trip possible! Since a minimum number of passengers are required in order to run each trip, we suggest you refrain from non-refundable air purchases until 2 months prior to your departure date or confirmation of sailing.