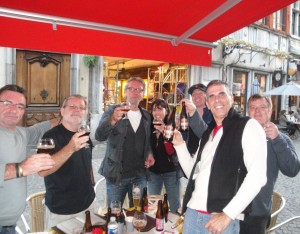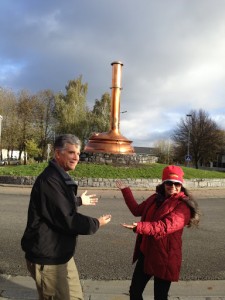 OOH LA LA! or should we say BREW LA LA!
On This Very Special Beer Tour Itinerary You Will Experience the History, Culture & Breweries of Two Countries
Combined into One Glorious Beer Filled Week!
Cruising the Canals of Belgium & France on The Beercation of a Lifetime
Along with Members & Guests of The Barrel of Monks Brewing!

October 29 – November 5, 2016
This Beercation is SOLD OUT!
Please email or call us to be added to the Wait-List.
1-888-U-Go-Beer

Details on this amazing Beercation are still in the works
Please note that due to the fact that this trip is scheduled for the end of 2016, some of our breweries and vendors are not yet able to confirm our visit so the itinerary is subject to change to accommodate their schedules. We will do our best to ensure that the final itinerary is as close to this year's as possible… or better!
Highlights:
Discover some of Belgium's world class breweries and enjoy some stellar beers as we take in beer meccas from the legendary In de Vrede cafe at Westvleteren to Sint Canarus, one of the smallest breweries in the World!

Spend a fabulous day at Chimay. Tour the brewery and the abbey, taste the beers and cheeses and visit to the Espace Chimay museum!

Taste and Tour at Rodenbach. Then be treated like beer royalty as we sit down to an unforgettable beer paired dinner served by candlelight between the foeders (foeder is the dutch word for the huge oak barrels which house the Rodenbach as it ages and help to give it that oh-so-tantalizing taste!)

Visit St. Bernardus Brewery, where Westvleteren beers were brewed for more than 45 years and where the tradition of brewing phenomenal beer continues today.

Climb to the top of Huisbrouwerij De Halve Maan and be awed by the amazing panoramic view over medieval Bruges…then be rewarded for your climb back down by a sampling of their beers.

Cross the Belgian border into the Northern Region of France to savor some authentic French Bière de Garde, Farmhouse Ales and some styles that you may not have expected to be coming out of France during our tours and tastings at Brasserie Thiriez, Brasserie St. Germain and Brasserie Bailleux.

Savor some delicious Cuisine a la Bière in the land where it originated.

Soak up the Vibrant Colors, Aromas, Flavors and International Flair of Lille, France at an open air market, a museum, a sidewalk cafe or strolling the cobblestone streets of the vieille ville (old city).
Visit Abbaye des Rocs and enjoy tasting some of the brews from this family owned and operated brewery. Plus there are a few more surprises on this spectacular itinerary.

Unpack only once and our floating accommodations will take us where we need to go…Onboard, feast on superb multi course meals prepared by our 1st class private chef. Enjoy the relaxed pace of barge cruising and take in the superb scenery as we spend some time to enjoy sailing along the canals.

Satisfy your curiosity about local history and culture by exploring this fascinating region along the French/Belgian border at WW1's Flanders Fields museum, Popering's Hops Museum and the old historic quarter of Lille. And of course, sip your suds like a local as you hunt down some great beers at the pubs with your Beer guide!
Book Today to Guarantee Your Spot and Save
With Early Booking Prices
Only $2880 per person double occupancy
Or $3635 Single Occupancy
Questions? Click Here to Request More Information
or call 1-888-U-Go-Beer  
The most convenient airports for this beercation are:
Arrival: Brussels Airport (BRU)
Departure: Brussels Airport (BRU)
We're continually looking for ways to improve our tours and we sometimes come across a special new pub or brewery since the itinerary was published that we'd like to share with you. Since our beer tours are planned far in advance, we may occasionally adjust the itinerary as necessary to provide you with the best trip possible! Since a minimum number of passengers are required in order to run each trip, we suggest you refrain from non-refundable air purchases until 2 months prior to your departure date or confirmation of sailing.

Photos from previous years' Belgium & France Beercations

flash is required to view this slideshow
click here for non-flash photos of this and other beer trips
Please Read our Terms & Conditions thanks!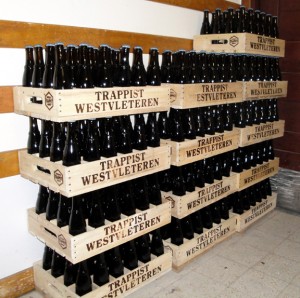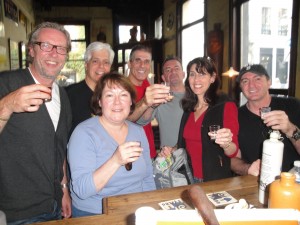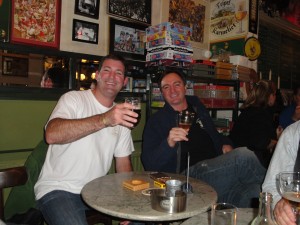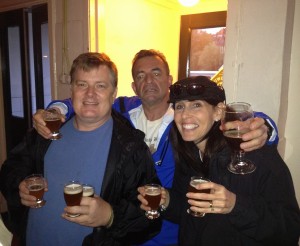 Please Read our Terms & Conditions, then Click here to get your Signature & Release Page. You will need to sign and then either mail or fax this page back to us at least 30 days prior to tour departure-thanks!
Amsterdam to Bruges Beer Vacation Cruise 2017



This Dream Beercation features many incredible brewery tours; walking tours of historic Amsterdam, Antwerp, Dordrecht, Gent and Bruges, as well as other beery events. This is a One-of-a-Kind Beer Tour of Dutch & Belgian Beers, Breweries and Culture!


Oct 14 – 21, 2017
Washington, DC Beer Safari Weekend
An epic beer tour of Washington DC including brewery tours, beer tastings, beer paired meals, DC's beer history and more. Includes 2 nights hotel, guided sightseeing, meals, transportation to brewery tours & tastings and more.
August 26-28, 2016
The Great California Beer Rush Tour 2016
On this very special weeklong California Beer Tour you will experience 20 Amazing Breweries & Brew Pubs, Gorgeous Scenery & Sightseeing and som of the best beer under the Glorious California Sun!
March 26- Apr 2, 2016