Germany Beercation on the Main River
Miltenberg to Bamberg
2017 Itinerary-  Click Here For More Info and Availability for our 2018 Cruise
 As we are constantly working out details to improve your beercation experience, this may change slightly due to traffic, weather, brewery issues, etc… but in general, this will give you a good idea of how things will run.
Day 1 – Saturday: Miltenberg        D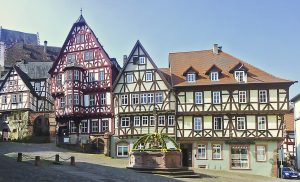 Join us on-board the Iris, your floating home for the week.  After settling in, we'll gather for a welcome drink and orientation.  Then we're off on a private walking tour of Miltenberg. We'll wind our way past half-timbered houses- some dating as far back as the 15th century- learning about the history, architecture and sights of this lovely Bavarian town. Our tour will eventually lead us to  our first brewery of the week- Brauhaus Faust.  Located in Miltenberg for more than 350 years, Brauhaus Faust is considered the oldest brewery in the Rhine Main area of Germany and we will learn about the history of the Faust family as well as their predecessors and enjoy some fabulous beers and a peek behind the scenes during an exclusive guided visit.
Having certainly worked up an appetite, we'll head back to the barge for our Welcome Aboard dinner.  After dinner, if you are not too jet-lagged from travel, you can join our beer guide for some beer hunting (This might be a visit to an historic pub or the local shops for rare and unique beers to sample or add to your collection.) Or relax onboard or on the deck with an after dinner beer and get to know some of your fellow beer voyagers.
Day 2 – Sunday: Miltenberg – Lohr   B, L, D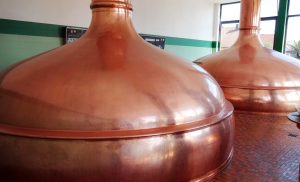 Breakfast is served on board before we disembark and board our motorcoach to head off to Wertheim.  Here we will meet our guide who will show us around the town and around the remains of the castle. This fortress was once home to the Counts of Wertheim and is said to be among the most picturesque ruins in Germany. Then we head to Distelhäuser Brauerei for a delicious lunch and brewery visit…and of course, beer!!
Right across the road from the brewery is an amazing farming museum that houses an incredible collection of farming equipment as well as other objects from days gone by. We were fortunate enough to meet the owner of this museum at a local hops festival where he supplied the hops wagon!  Up until about 1955, Distelhäusen was basically a small agricultural/farming area.  The owner of the museum wanted to preserve the farming heritage of this area for future generations. Exploring his collection is like going back in time. Afterwards, we will head back to meet the barge in the town of Lohr. Dinner is on board tonight.
Day 3 – Monday: Lohr – Würzburg   B, L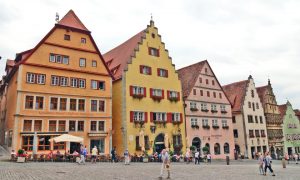 We have time for a relaxed breakfast on board this morning before our motorcoach picks us up to bring us to our first stop of the day:  Landwehr Bräu.  Here, we are in for a fun visit including tastings and other surprises followed by a delicious lunch. 
Then it is off to Rothenburg ob der Tauber– a truly lovely and well-preserved medieval town for an afternoon of exploring.  You'll have time to walk the ramparts; check out the old time holiday decorations as well as both good and evil Santas in the Christmas Museum; try a Schneeball, the local pastry made of deep-fried dough shaped like a snowball and covered in either confectioner's sugar or chocolate and enjoy dinner on your own before we gather our group ,for a special Night Watchman Tour. Our motorcoach awaits us upon return from the tour to whisk us back to Wurzburg where the barge is moored.
Day 4 – Tuesday:    Würzburg – Kitzingen   B, L, D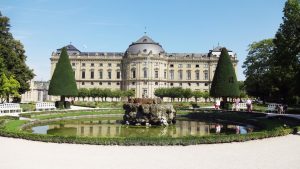 Relax over breakfast before we head out for a private tour at the Würzburg Residence and Court Gardens.  Constructed in the 18th century, it is considered one of the largest and most beautiful Baroque palaces in Germany.  Thanks to the incredible artistry and décor inside -created by top European architects, stucco workers and artists- and the gorgeous gardens outside, it has been designated a UNESCO World heritage site.
After our cultural morning, it will certainly be time for a beer or two! So off we go to the local brewery, the Würzburg Hofbräu. Here, weather permitting we can enjoy a lunch in their lovely biergarten and a tour of the brewery. 
Then, we'll make a BBV insider stop for some unique beers at a local connection we made a while back while researching this tour 

Later, our coach will bring us to Kitzingen where our barge will be moored.  Enjoy a stroll through the town or a drink on the deck before dinner onboard.  Perhaps a post dinner constitutional or maybe some beer hunting is in the cards tonight?
Day 5 – Wednesday: Kitzingen – Volkach – Schweinfurt – Hassfurt   B, L, D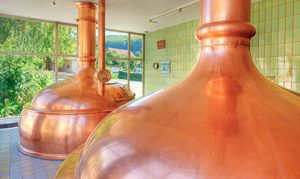 Today we enjoy a morning sail during breakfast on our way to Volkach.  Here we will meet our motorcoach for todays outings, the first of which will be Brauerei-Gasthof Hartmann. We'll enjoy a visit to the brewhouse and a tasting of their beers before we are treated to a delicious lunch in their beautiful biergarten (weather permitting) or inside their equally charming restaurant.
Next, we stray  a bit off the beer route for a special treat for those of us with a sweet tooth as we head to Confiserie Storath.   When you put your name on something, you want it to be the very best.  Johannes Storath has done just that and certainly set the bar for artisanal chocolates in Bamberg and the surrounding areas.  Confiserie Storath uses only the highest quality ingredients to create products "to sweeten the everyday".  Here we will see magic in the making as we tour the factory of this well-known chocolatier and then be treated to some of his delicious chocolates!
We'll  meet our the barge in Schweinfurt this afternoon and relax onboard before dinner as we sail to our mooring spot for this evening, Hassfurt.
Day 6 – Thursday: Schweinfurt – Bamberg  B, D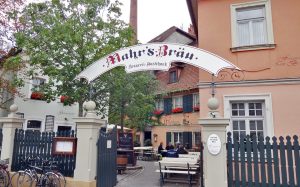 Today we'll enjoy a leisurely breakfast onboard. Then, while the barge makes its way to Bamberg our motorcoach whisks us off to a very special place.  Many of you will recognize the familiar red WM logo that you have no doubt seen time after time on the bags of malt at a number of US breweries as well as those around the world.  The 135 year-old Weyermann Malzfabriek is the leading manufacturer of specialty brewing malts and supplies malt to 135 countries around the world. Visiting and experiencing what goes on behind the walls of this titan of malt houses will be akin to visiting Willy Wonka's factory, only for beer lovers.
Next, we will head over to Mahrs Bräu Bamberg GmbH we will tour the brewery and you can relax and refuel with lunch on your own in the biergarten.  Afterwards,  we'll head back to meet up with the barge again for one final sailing and dinner after arrival at our mooring spot in Bamberg.
After dinner pop out to see the sights by night on your own or join Mike for optional beer hunting in Bamberg.
Day 7 – Friday: Bamberg    B, L, D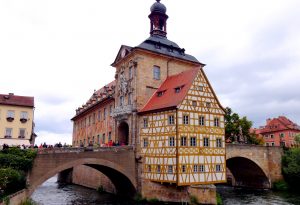 Once we have fortified ourselves with a hearty breakfast this morning, we will meet our local guide for our Walking Tour of Bamberg and visit to the Frankisches Brauereimuseum located in the Michelberg Abbey. After we've learned the lay of the land and some of the history of the beer in Bamberg, we will visit the oldest continuously operated brewery in Bamberg, Klosterbräu Bamberg for a tour and Lunch. 
Then it is off to visit Schlenkerla "Heller-Bräu Trum" -world renowned for their rauchbier.   Learn the unique process used to create this special beer and taste the beer considered a benchmark for this style. The rest of the afternoon and is yours to explore the sights and pubs before returning to the barge on your own for our Farewell Dinner.
This evening, if you are all packed up and ready to head out in the morning, relax on the barge or join Mike for a last night of beer hunting in Bamberg.            
Day 8 – Saturday: Bamberg   B
This morning, after a final breakfast, it is time to say our farewells.
As they say, all good things must come to an end. Cheers until next time!