Grand Crus to Farmhouse Brews – A Beercation through Belgium & France
A Custom Once-in-a-Lifetime Small Group Land Tour
October 27 – November 3, 2012
Very Limited Single/Double Space Based on Availability
Ooh La La!
Only one room left for this once-in-a-lifetime land tour!
"Grand Crus to Farmhouse Brews- A Beercation through Belgium & France"
Join us as we explore the History, Culture and Breweries of Two Countries into One Glorious Beer Filled Week!
October 27-November 3, 2012
This Custom Tour is being run on land this year only and is Limited to a small group of VIP Guests!
Highlights:
Visit Westvletern and taste their brews at In de VredeDiscover some of Belgium's world class breweries and enjoy some stellar beers as we take in beer meccas from the legendary In de Vrede cafe at Westvleteren to Sint Canarus, one of the smallest breweries in the World!
Celebrate the 150th anniversary of Chimay with a brewery tour and a visit to the new Espace Chimay museum.
Foeders at Rodenbach – Work up a thirst during our trek through the hundreds of huge foeder barrels during our tour at Brouwerij Rodenbach in Roeselare.
Visit St. Bernardus Brewery, where Westvleteren beers were brewed for more than 45 years and where the tradition of brewing phenomenal beer continues today.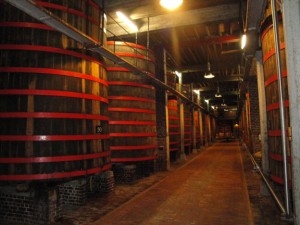 Climb to the top of Huisbrouwerij De Halve Maan and be awed by the amazing panoramic view over medieval Bruges…then be rewarded for your climb back down by a sampling of their beers.
Visit Brewery Van Eecke, which dates back to the 1600's, and taste the famous Poperings Hommel Ale (Hommel means hops in the local dialect) as well as their other award-winning beers.
Cross the Belgian border into the Northern region of France to savor some authentic French Bière de Garde and Farmhouse Ales during our tours and tastings at Brasserie Thiriez, Brasserie St. Germain and Brasserie Bailleux.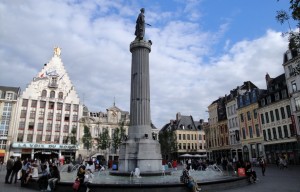 Savor some delicious Cuisine a la Bière in the land where it originated.
Soak up the vibrant colors, aromas and international flair of Lille, France at an open air market, a museum, a sidewalk cafe or strolling the cobblestone streets of the vieille ville (old city).
See beer in a new light when we visit Wambrechies, an historic distillery that makes genever, a form of gin, out of beer!
Satisfy your curiosity about local history and culture by exploring this fascinating region along the French/Belgian border with guided tours or vistis to WW1's Flanders Fields, Popering's Hops Museum and the old historic quarter of Lille.
And of course, sip your suds like a local as you hunt down some great beers at the pubs with your Beer guide!
$2610 per person double occupancy
Limited number of Single Occupancy Rooms $3145 based on availability
Please Call 1-888-U-Go-Beer (1-888-846-2337) or email us at beer@bonbeer.com for more information about this tour or next year's tour!
Click here to See the Day by Day Itinerary
– – –
Included in the Price for the France & Belgium Beer Tour:
* Quality accommodations, all with private bathrooms with shower.
* 7 Breakfasts, 3 Lunches & 4 Dinners.
* Brewery Tours as specified in the tour itinerary.
* Tastings during Brewery visits
* Experienced, English speaking tour leaders and guides
* Ground transportation throughout the tour, as described in the itinerary.
* Sightseeing as described in the tour itinerary.
* Private guided tours, or special activities and events, as indicated in the tour itinerary.
* All taxes on included hotels, meals and transportation.
Not Included in the Tour Price:
* Airfare or other transportation to the tour starting point, and from the tour ending point.
* Meals not specified in the itinerary.
* Drinks with meals(*normally not included, though some meals may include beer pairings-this will be noted in the detailed itinerary for the tour).
* Personal expenses such as laundry or telephone calls.
*Expenses for any activities not included on the itinerary.
* Passport or visa fees.
*Gratuities for guides, bus drivers, tour leaders & hotel staff.
*Drinks/food during pub visits or beer hunting expeditions, unless stated otherwise in itinerary.
*Tour insurance coverage to cover tour cancellation or interruption, lost luggage, accidental death, medical expenses, emergency medical evacuation, or unavoidable flight delays. Please note: many personal health insurance plans don't cover their participants while they are traveling out of the country.
For more information call 1-888-U-Go-Beer or email us at beer@bonbeer.com.