Ooh la la! We are headed to the south of France next summer… and you're invited!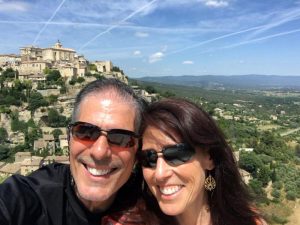 There is something magical about the combination of fields of lavender and sunflowers, a glass of cool rosé on a warm summer evening, markets full of gorgeous produce, delicious cheeses and local delicacies, and medieval towns with cobblestone streets so perfectly preserved that you expect a knight in shining armor to appear just around the bend.  This is our Provence and we want to share it with you. The towns, the wineries, the food, cooking lessons, truffle hunting, the scenery that inspired Cezanne and Van Gogh- they all await you on our exclusive, small group, Provence Dreams tour. Join us this summer for an exclusive, small group private tour showcasing some of what we consider the Best of Provence.
Cheers,
Ruth and Mike
Provence Dreams – The Best of Provence Tour
June 25 – July 4, 2022
limited to 14 guests – by invitation only
Highlights:
VIP Accommodations: 2 nights in a 4-Star Hotel in Avignon &
   7 nights in a Château in the Middle of a Vineyard near Châteauneuf du Pape
Exclusive Wine Tastings & Pairings
Gourmet Meals
Truffle Hunting & Tasting Experience
Sightseeing in Some of France's Most Beautiful Villages & Medieval Towns
Cooking Class with a Local Chef
Eat, Shop and Meander through France's Colorful Markets
Amazing Photo Ops in Provence's Famous Lavender Fields
Immersive Art and Light Show – Carrières de Lumières
Private Mini-Coach Transportation & English-Speaking Local Guides

Tentative Day by Day Itinerary
Our VIP accommodations start with 7 nights in a chateau in a vineyard near the famous wine region of Châteauneuf-du -Pape!  We'll spend the last 2 nights in a 4-star hotel in the center of Avignon.  All rooms in both the hotel and chateau are air conditioned, with private en-suite bathrooms.  All rooms have showers and most rooms in the chateau also have large soaking tubs. The outside patio at the chateau is a fabulous place to enjoy cocktails, facing the lavender field and vineyards.  There is also a private pool to cool off in or relax by and boules available to play petanque.
We'll dive right into the fabulous food experiences one expects in Provence with a gourmet welcome dinner cooked by our favorite local private chef. More delicious dinners will follow during our stay, as well as a cooking class (those who would rather relax than cook can still participate in the meal). Daily breakfasts and some fabulous lunches are also included, with one of the lunches being a serious indulgence of local specialties from appetizer to cheese plate at one of our favorite restaurants!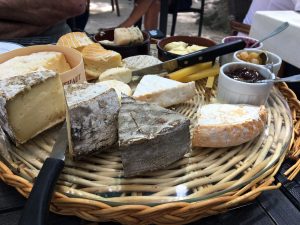 In Avignon, our award-winning guide will lead us around the historic city, from the Popes Palace to the Pont d'Avignon and on to the famous Les Halles food market.

We've planned outings to some of our favorite perched villages and other charming towns in the surrounding areas. Our drives will bring us through the picturesque countryside and towns made famous by artists like Cezanne and Van Gogh. Whether you enjoy painting, photography, cooking or any art form, including admiring others' works, you can't help but be inspired by the beauty that will surround you.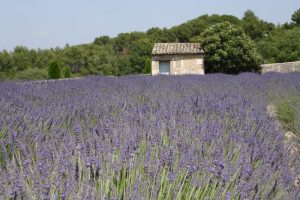 Seeing the lavender fields that Provence is famous for is a must experience. You will be surprised to find the myriad uses for the essential oils distilled from this product that has become one of the symbols of Provence.


We'll explore
Vaison La Romaine, an incredible medieval town
with winding cobblestone walkways that make you think a knight in shining armor will be riding around the corner any minute! You can hike up to the ruins of the castle at the top of the town or visit the
Roman ruins
in the lower part of the city. There are a number of fabulous
art galleries
we will have a chance to visit and even an award-winning fromagerie in town. The choices abound and will delight your senses.


You will want to bring extra batteries for your digital camera or phone so you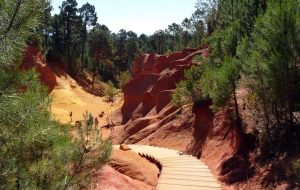 can keep taking pictures when we visit Roussillon, located in the heart of one of the largest ochre deposits in the world. The buildings in this beautiful town are literally pigmented in red and rust tones derived from the the indigenous ochre mines. Here we'll have the option for a beautiful, short and easy hike through the mines as well as time to enjoy the picturesque Provencal village.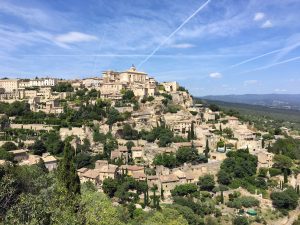 Any visitor to France must see at least a few of the towns classified as one of "Les Plus Beaux Villages de France" (The Most Beautiful Villages in France). You will find those that are perched up on the top of the hillsides like Gordes and Le Baux de Provence are pretty incredible. Sometimes it is hard to decide which is a more amazing sight- the view of the villages like this photo to the left, or the views from the villages over the surrounding countryside!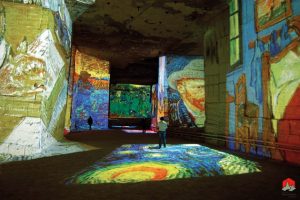 Imagine what it would be like if you could walk into and through 
some of the world's most famous paintings. In the old, inactive chalk mines in Les Baux de Provence, you will be mesmerized by one of
the world's most beautiful multimedia art presentations – the Carrieres des Lumières
. Let's just say that there is no way to describe this amazing, immersive presentation except to experience it in person.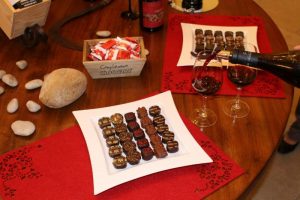 Of course we could not bring you to Provence without plans for private VIP visits and tastings at some of the best wineries in Châteauneuf du Pape and other regions. And because we want you to be able to experience as much of the wonderful regional products as possible, we have also arranged for a guided wine and chocolate tasting!

Foodies and dog lovers alike will love our unique truffle hunting experience. Truffles are one of the most expensive foods in the world and truffle hunters tend to be very secretive and territorial. We will learn how these "black diamonds" grow, the mystique behind them, meet the truffle dogs(not pigs!) and go on a truffle hunt. Afterwards we will have the opportunity to taste some of the amazing products created with truffles in our beautiful Provencal setting.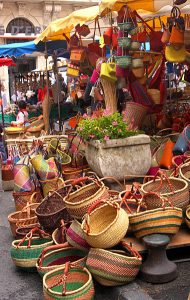 No trip to Provence would be complete without spending some time at one of the 
weekly markets. The
famous weekend market in L'Isle sur la Sorgue
is one of the most lively and colorful in Provence. From the Antiques and Bric a Brac (Isle sur la Sorgue boasts the second largest Antiques center in France after Paris) to the delicious local products such as cheese to charcuterie, or locally milled soaps to lavender sachets, you are sure to find some souvenir of Provence as you stroll along the stands lining the streets and waterways.
All of this and more awaits you in Provence.
Won't you join us on vacation in our happy place?
This 10 Day/9 night tour will start in our Chateau near Châteauneuf du Pape, and finish in Avignon.  TGV to/from Avignon is close by.  We are happy to assist with pre- and post hotels and tours, flights as well as trip insurance… just ask!
Early Booking Price Only
$4760 pp person double occupancy
for 10 days/9 nights.
Single Supplement add $1000
Space is very limited and room assignments will be based on a first come first serve basis.
Please
Email
or Call Us at 1-888-846-2337 with any questions.  
COVID-19: Due to the constantly fluid situation surrounding Covid-19 and admittance to cultural and public sites in Europe based on proof of vaccine, and in order to provide the safest tour experience possible, all guests on Bon Beer Voyage's Provence Dreams Tour and all European Tours will need to be fully vaccinated until further notice. See Terms and Conditions for further info.
---
Please Read our Terms & Conditions, and complete your Signature & Release Form before you travel. You will need to sign and then either mail or fax this page back to us at least 30 days prior to tour departure-thanks.
Our tour itineraries are subject to change due to unforeseen circumstances such as inclement weather, transportation problems, or an unexpected business closure. We're continually looking for ways to improve our tours and we sometimes come across a special new winery, event or pub since the itinerary was published that we'd like to share with you. Since our tours are planned far in advance, we may occasionally adjust the itinerary as necessary to provide you with the best trip possible! Since a minimum number of passengers are required in order to run each trip, we suggest you refrain from non-refundable air purchases until 2 months prior to your departure date or confirmation of sailing.