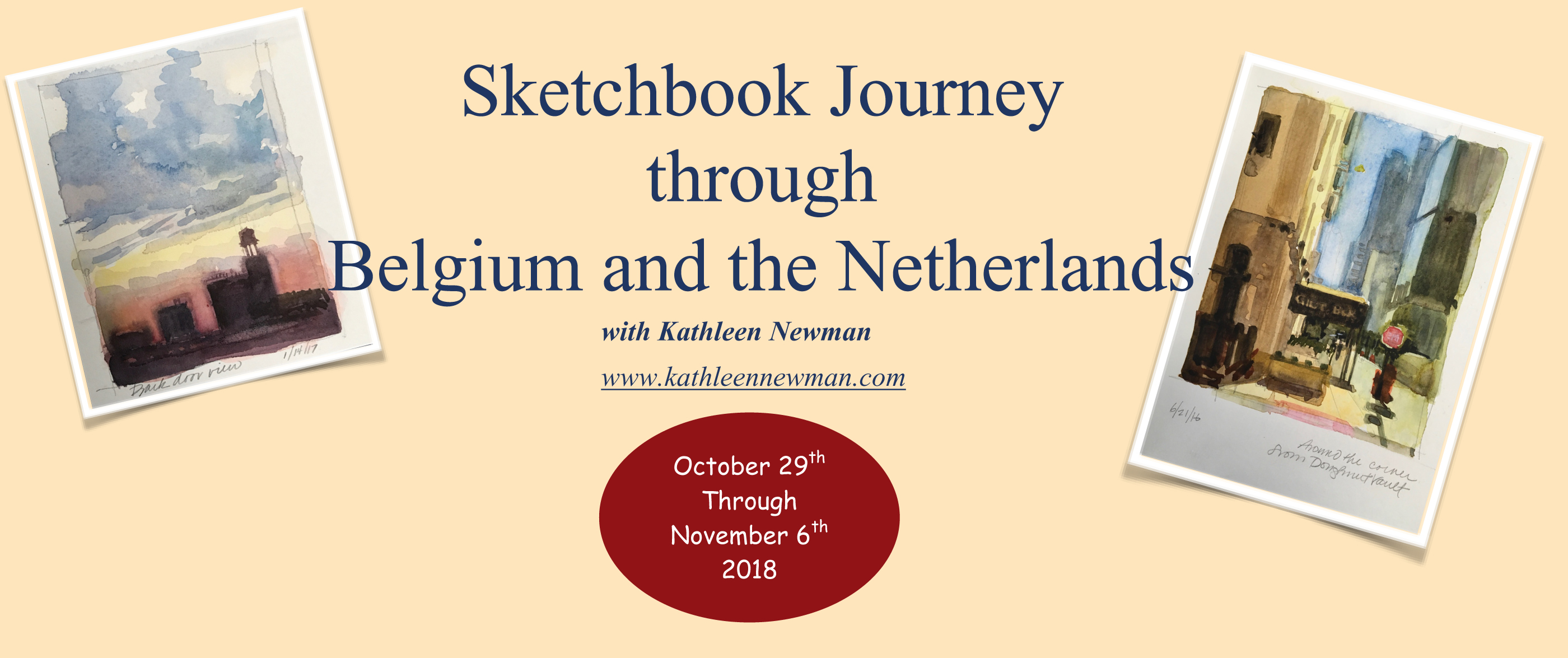 Join travel sketchbook instructor, Kathleen Newman, during an art cruise and workshop as we travel along the waterways from Bruges to Amsterdam!   On our private canal cruise, we will explore and record our experience through exciting sketchbook techniques and photographs.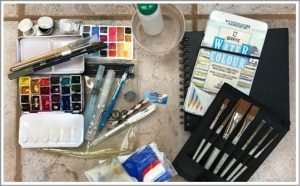 While floating along and roaming the streets, we will have short class sessions about working in pencil, ink, learning additional techniques with watercolor, watercolor pencils and gouache (opaque watercolor).  As we travel and roam, our goal is to learn how to simplify the scene, record the most important information with the time allowed and how to utilize our sketchbooks as a personal record of being present to our travel experience. 
We will keep supplies to a minimum while exploring on land ~ a small backpack with a 9 x 12 water media sketchbook, pens, pencils, eraser, small watercolor palette, and brushes.  On board our floating home away from home, we will have more time to spread out and complete our sketches while learning new techniques for the days ahead. 
 A complete supply list will be sent upon registration.
Join us on this Amazing 9 Day Journey


Save with Early Booking Prices


Register Today
Day by Day Itinerary
Day 1 Monday, October 29, 2018 Bruges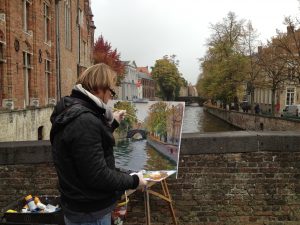 Welcome aboard!  After unpacking and settling in, we will meet the crew and our fellow passengers for a welcome drink. We'll have a brief introduction about our sketchbook travel workshop and then it's time to see the city known as the "Venice of the North" during our privately guided walking tour.  As we walk along the maze of winding cobbled alleys and romantic canals, you will feel like you have been transported back to medieval times. Afterwards, we'll have time to explore some of Bruges pubs, shops or museums; or maybe take a canal boat tour around the picturesque canals and enjoy the view from the water. And our tour directors will be happy to point us in the direction of one of their favorite stops- the best frites stand in Bruges! After dinner on board, we'll relax on the barge, head into town for exploring and sketching, or join our Belgian beer expert for a visit to one of the many unique local pubs.  D
Day 2 Tuesday, October 30, 2018 Bruges
Relax over breakfast then we'll have a short sketchbook workshop onboard before we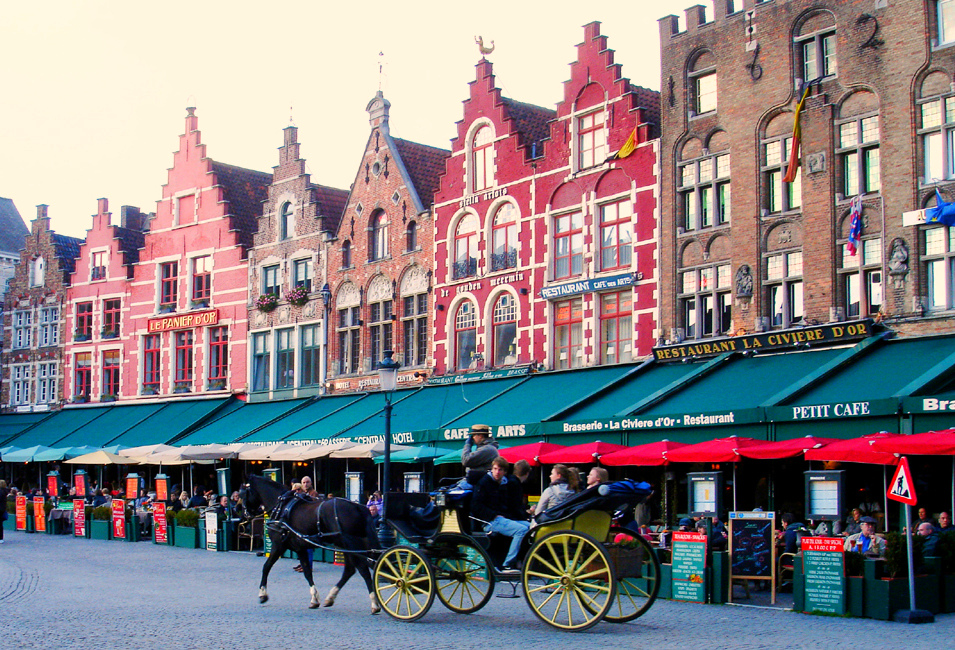 head out to visit The Church of Our Lady.  Here we will find the "Madonna of Bruges", a beautiful Carrera marble statue of the Madonna and Child by Michelangelo.  Take the opportunity to sketch the statue or whatever catches your eye – perhaps church's choir, paintings and/or the stunning interior. Afterwards, experience some of the things that Belgium and Bruges are famous for. Check out the wall of beer at 2Be or sample some of the mouth-watering chocolates at The Chocolate Line, where you will find over 60 unique flavors- including Sake, Sicilia (made with extra virgin olive oil) or the Havana (made with cigar leaves marinated in rum and cognac)! After lunch on the barge, we will take a guided tour tour at De Halve Maan brewery.  The tour of this part brewery/part museum is very entertaining and the guides here are some of the best in all of Belgium.  We will have the opportunity to go all the way to the top of the brewery where we will be rewarded with a magnificent view over all of Bruges!  Of course, this is a brewery, so a beer awaits us as our second reward after we descend back down and into the breweries tasting room. This evening, we'll head back to our barge for dinner, then relax on board with sketching/discussion or head into town for further explorations.  B,L,D
Day 3 Wednesday, October 31, 2018 Bruges to Ghent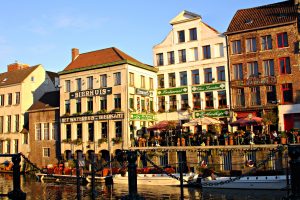 Enjoy a leisurely breakfast onboard and a morning demonstration/workshop with Kathie while we enjoy the morning sail to Ghent. After lunch on board, we will board a small canal boat into town for a guided tour from the canals. Afterwards, our tour director will take us to a local specialty pub to experience a very unique and tasty regional liquor, called Jenever.  Then it's more sketching opportunities, shopping or sightseeing as the afternoon and evening is ours to explore Ghent.  There are also some great pubs here that we won't want to miss.  And if you are looking for more than the pub scene for dinner, there are plenty of restaurants to tempt our taste buds with a local flair.  We'll return to the Barge docked a few kilometers away by taxi at our leisure.  B,
Day 4 Thursday November 1, 2018 Gent (to Brussels) to Dendermonde
Make sure to eat a hearty breakfast onboard this morning, we have a serious day ahead of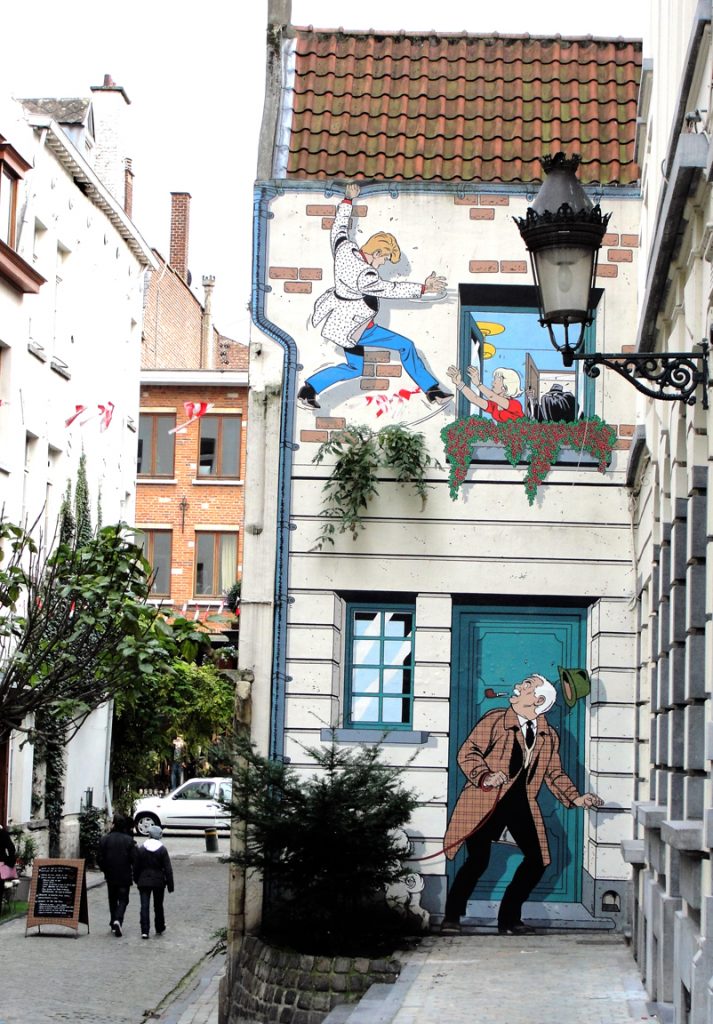 Brussels with a guided walking tour of the comic wall murals adorning the buildings.  We will have free time to grab some lunch, see the iconic Mannekin Pis statue, do some sketching, try some of the local chocolate or waffles or just roam around and enjoy the vibe.  For dinner this evening, we will meet at the famous Chez Leon for dinner. Enjoy a favorite Belgian specialty- their delicious mussels paired with Belgian beer (of course!) or your choice of other fabulous Flemish specialties and beverage options.  Then it is back on our coach to head to the barge which will be awaiting our arrival in Dendermonde.  B,D
Day 5 Friday November 2, 2018 Dendermonde to Antwerp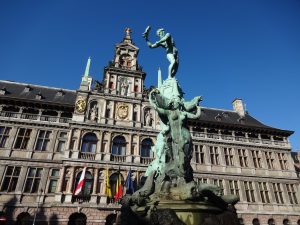 After breakfast this morning we will meet our private motorcoach for our transfer to Antwerp, a city perhaps best known for diamonds, but there is much more to see in this interesting town. We will start with a guided walking tour and then end at a local pub, where we will enjoy a beer. (this is Belgium, after all!)  We will then have free time for lunch and the 3 "S"s- Sightseeing, Sketching and/or Shopping! Later this evening we will all gather at Het Elfde Gebod,(translation: The 11th  Commandment) an amazing pub, set in the shadow of the cathedral, full of icons… and we mean FULL!  Here you can grab a refreshment or snack and do some sketching – there are great views to capture inside or out. Our tour director will meet us here to take us back to where our boat is docked. After dinner, relax onboard or venture over to the nearby Maas museum where you can ride the escalators up 9 stories past various exhibits, to enjoy a constantly changing view of the city as you go higher and higher. When you reach the top, you will have a fabulous view of the entire city of Antwerp. B,D
Day 6 Saturday November 3, 2018 Antwerp to Dordecht
After a leisurely breakfast this morning, we can practice a few more sketchbook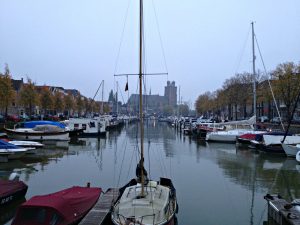 techniques during our wonderful morning sail.  We'll have lunch onboard before we meet our bus to head to Dordrecht, the oldest, and in our opinion, most charming town in the Netherlands. Here we will take a guided tour and then have free time on our own to enjoy some amazing sketching opportunities along the harbor. After another amazing dinner onboard take an evening stroll along the waterway, relax in our lounge or on the deck or head out for an after dinner drink and maybe even enjoy some music at one of the local pubs. B,L,D
Day 7 Sunday November 4, 2018 Dordrecht to Amsterdam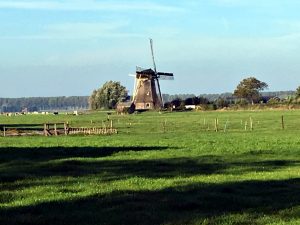 Enjoy an unhurried breakfast while we stay on board to enjoy a morning sail to Schoonhoven.  Here we will board our private motorcoach to head off to a local cheese farm where we see how cheese is made and sample some of their fresh artisanal cheese! We'll take advantage of our time here to enjoy the views, have some lunch and more sketching time.  Then we'll hop on the coach and head back to Amsterdam and the Van Gogh museum for a private guided tour. You'll have free time after the tour to check out the museum on your own or explore the shops and sights in the area before heading back to the barge at your leisure in time for dinner.  B, D
Day 8 Monday November 5, 2018 Amsterdam
Our private local guide will meet us onboard today after breakfast and take us to see the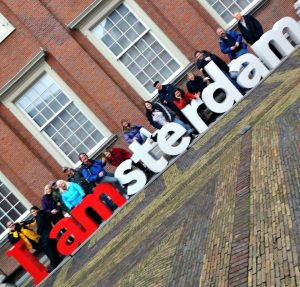 real Amsterdam.  During a guided walking tour designed especially for our group, we will wind our way through various parts of town, where we will learn about the history, architecture and sights of "A'dam" Then it is free time on our own for the rest of the afternoon for lunch, sketching, souvenir shopping with a wrap-up critique of our week's worth of sketching  Tonight, we will be treated to a very special Farewell Dinner on board. B,D
Day 9 Tuesday November 6, 2018 Amsterdam
A final breakfast on board and a fond farewell to all before we disembark our barge to depart for flights home or wherever your travels will bring you!  B
The most convenient airports for this tour are:
Arrival:  Brussels Airport (BRU)
Departure: Amsterdam Airport Schiphol (AMS)
Only $2900 per person Double Occupancy
Save with Early Booking Prices 
Register Today
Questions? Click Here to Request More Information
or call 1-888-846-2337
Your Art Workshop Instructor:
Kathleen Newman


Kathleen Newman, IAPS/MC, PSA, AIS, CPP-M, TWSA, ASMA, combines a sense of focused observation and sensitive interpretation in her award winning pastel, oil and watercolor paintings, specializing in harbor settings, landscape and urban living.  Her work is held in many private collections as well as the Ritz Carlton Orlando, Ameritech, IBM, MCI, Disney, Deloitte, American Dental Association and recent additions to the new Prentice Hall, Northwestern Memorial Hospital.  She currently teaches pastel, watercolor, and urban sketching classes in Chicago and throughout the country.  As a sketchbook enthusiast, she is thrilled to teach the enjoyment of drawing and observation to students as they record their experience while traveling.    

Read More About Kathleen Newman

Your Tour Directors:
| | |
| --- | --- |
| Ruth Berman & Mike Arra | While Ruth and Mike are best known for their beer tours, their experience in  travel and tourism extends much farther. The couple has been traveling since they met and in fact, say that their first "date" was at Newark Airport waiting for a delayed  People's Express flight!   They are also both IATAN accredited travel agents and Ruth is a licensed tour guide in Washington DC, Florida and NYC as well as a Certified Tour Director. Mike serves as the logistics guru for all of their public and private group tours. In their (very rare) spare time, Ruth likes to sketch and paint watercolors of pictures she takes on her travels and Mike runs the neighborhood Fantasy Football League. With France, Belgium and the Netherlands among their favorite destinations and awards for two years running as Best Food/Beverage Tour Operations on Water by the World Food Travel Association, we will be in good hands during our floating art-cation! |
We're continually looking for ways to improve our tours and we sometimes come across a special & new events or local tours since the itinerary was published that we'd like to share with you. Our tours are planned far in advance, so we may occasionally adjust the itinerary as necessary to provide you with the best trip possible! Since a minimum number of passengers are required in order to run each trip, we suggest you refrain from non-refundable air purchases until 2 months prior to your departure date or confirmation of sailing.
Included in the Tour Price:
* Quality accommodations (double occupancy) in a cabin during the cruise, as specified in the tour itinerary.
* Meals as specified in the tour itinerary.
* Art Workshops and instruction with Kathleen Newman as per itinerary
* Experienced, English speaking tour leaders and guides
* Ground transportation throughout the tour, as described in the itinerary.
* Sightseeing as described in the tour itinerary.
* Private guided tours, or special activities and events, as indicated in the tour itinerary.
* All taxes on included accommodations, meals and transportation.

Not Included in the Tour Price:
* Airfare or other transportation to the tour starting point, and from the tour ending point.
* Meals not specified in the itinerary.
* Drinks with meals (water, coffee and tea are available at all time on the barge, other beverages, i.e soda, wine and beer are available for purchase at reasonable prices from the honor bar).
* Personal expenses such as laundry or telephone calls.
*Expenses for any activities not included on the itinerary.
* Passport or visa fees.
*Gratuities for barge crew, guides, bus drivers & tour leaders.
*Drinks/food during pub visits or beer hunting expeditions unless included in itinerary.
*Travel insurance coverage to cover tour cancellation or interruption, lost luggage, accidental death, medical expenses, emergency medical evacuation, or unavoidable flight delays. Please note: many personal health insurance plans don't cover their participants while they are traveling out of the country.
Please Click here to Read our Terms & Condition
Important Passport Information: Passengers are responsible for ensuring that their passport expiration date is within the validity period of the counties they will be traveling to. Some countries require that your passport be valid at least six months beyond the dates of your trip (this applies to Belgium, Germany, the Netherlands and is recommended for the United Kingdom. France requires a 3 month validity period). Some airlines will not allow you to board if this requirement is not met.