Provence Dreams Tour Itinerary
Day 1 Thursday, Avignon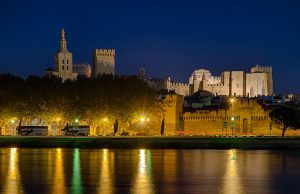 Arrival day in Avignon. After settling into our hotel, we will gather in the lobby to meet your fellow Provence Dreamers. We'll take a short stroll to one of Avignon's gastronomic restaurants where we will enjoy a leisurely and delicious welcome dinner, in true Provencal style. After dinner, you're free to meander around town and walk off dinner or check out the magnificent view of the Pope's Palace lit up at night.
Dinner
---
Day 2 Friday, Avignon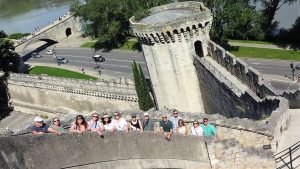 Today we will have breakfast at the hotel and then we are off to explore Avignon on a private walking tour with our local guide. As we wander through town we will see the Pope's Palace- a UNESCO world heritage site, Saint Benezet bridge (the legendary Pont d'Avignon), The Jardin des Doms and more until we end up in Les Halles, the fabulous food market. After the tour, this is a great place to hang out, sniff and taste your way around, grab a few things and sit down for lunch. You are free the rest of the day to explore or relax as you please. Meanwhile, in the app you will find a list of some of the locally recommended delicious restaurants in Avignon for dinner on your own this evening – bon appetite!
Breakfast
---
Day 3 Saturday, Avignon – Châteauneuf-du-Pape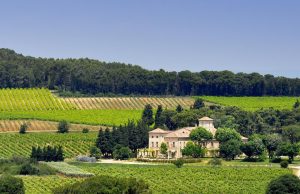 This morning we'll have breakfast in the hotel and then we will load up our bags into our coach and head off to Châteauneuf-du-Pape for a tasting of some of the best from this famous region. Upon arrival, you'll have some free time to wander around the town and see the ruins of the chateau before we enjoy a delicious lunch at a lovely, local restaurant.
Then we are off to Chateau la Nerthe for a visit of the cellars where wine lockers store wines for some of the most famous restaurants in the world! And of course, we will do a tasting of these wonderful wines!
Next, we head to another local winery, where we will have a workshop on wine and chocolate pairing!
Then we'll head back to our Chateau, located just outside of Châteauneuf-du-Pape, where you can relax by the pool or learn how to play Pétanque; you may have seen groups of French residents enjoying this relaxed game of boules in some of the village squares or park "boulodromes"; It is an institution in the South of France and is quite fun, especially while enjoying an aperitif!
This evening, our dinner will be prepared by our private chef and paired with wines from the château.
Breakfast, Lunch, Dinner
---
Day 4 Sunday, Isle sur la Sorgues-Coustellet – Châteauneuf-du-Pape
This morning after breakfast in the Château we will head off to one of the best markets in Provence and maybe even in France! The Sunday market at L'Isle-sur-la-Sorgue, "The Venice of Provence", has it all – a food market, "brocante"(flea market) and antique market all in one so you can buy everything from artisanal cheese to an antique wardrobe! Stroll along the streets lined with vendors and flower-filled riverside cafés. Check out the waterwheels, do some great people watching and take a peek into the local church. Taste your way along the vendors sampling tapanade, olive oil and cheese! When you have totally whet your appetite, find a waterside or garden café and relax with a cool glass of some local rose and a nice lunch. If you are looking for a reservation at somewhere a little out of the crowded market, then check out our app for suggestions. Some of the smaller restaurants fill up fast on market day, so make sure to reserve in advance.
Afterwards, since one cannot visit Provence without seeing some of the gorgeous lavender that paints the valleys in myriad shades of purple during mid-summer, we'll head to nearby Coustellet to visit the Musée de Lavande (Lavender Museum) where we will learn about the different types and uses of lavender and see how it is processed, from growing to distillation. (Yes, of course we had to include something with distillation!)
Then we head to our Chateau, and this evening, you are invited to join us for "Ruth and Mike's Favorite Provence Vacation Dinner": a casual picnic al fresco, weather permitting, of local meats and cheeses, fresh bread, fruit, wine and beer. If you prefer to dine out, taxi and local restaurant info can be found in your BBV app.
Breakfast, Optional Picnic Dinner
---
Day 5 Monday, Roussillon and Gordes

After we fuel up at breakfast this morning we'll head to the stunning town of Roussillon, where the quarries which once supplied ochre for products such as dye and paints in fabulous hues from crimson to gold now stand like a mini Grand Canyon. We'll descend into Les Sentiers des Ocres for a magnificent but easy walk through the dazzling red and yellow sand cliffs. (The short version is only ½ hour or you can opt for a longer trail of about 45min to an hour.) Afterwards, you will have free time to stroll around the town, explore the shops and galleries and climb to the top of the viewing area beside the church for a superb panoramic view. We'll enjoy lunch here before heading on to visit a local winery that we discovered a few years back for a visit and tasting of their amazing rosés and other local styles.
Next, we will head to Gordes, stopping for photos of the breathtaking view of this popular village perched on the top of a steep hill. The narrow and sometimes arcaded medieval lanes invite you to explore and see what is around each corner of this charming village. Take some time to explore and then soak in the atmosphere over a cool drink on a shaded patio in one of the local restaurants.
We'll head back via the route that will pass by the famous Abbaye de Senanque. If you have a guidebook for Provence, chances are, there is a picture of this gorgeous setting with lavender fields and the ancient abbaye on the cover or inside the book. We'll make a quick stop to take our own photos before heading home.
This evening, dinner is on your own. Taxi and local restaurant info can be found in your BBV app.
Breakfast, Lunch  Provence Dreams Tour Itinerary
---
Day 6 Tuesday – Day to Relax at the Château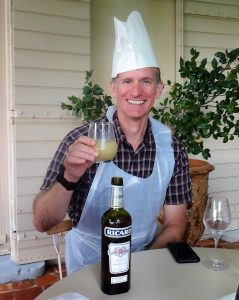 Today is yours to spend as you please. Relax poolside with a good book and a glass of wine, or perhaps a run through the vineyards to work off some of last nights dinner? There are numerous options for touring on your own in the surrounding areas, and taxis and suggestions for both activities and dining will be included in your trip app and from your tour directors. Picnic makings for a light lunch will be available if you are spending the day at the chateau.
This evening, those who are feeling inspired will join in on a cooking class and help prepare tonight's fabulous dinner, the rest of the group is free to relax until dinner is served!
Breakfast, Dinner  Provence Dreams Tour Itinerary
---
Day 7 Wednesday, Le Baux and Paradou
Today we will spoil your senses with amazing sights, tastes and experiences. We'll start by touring the vestiges of Château des Baux, an 11th century fortress, perched high on a rocky outcropping. The views from up here seem endless, as if you are at the top of the world. If we are lucky, we may even be there during a demonstration of the giant catapult! Afterwards we'll have some free time to explore the town which dates back to the 10th century.
Then we head to one of our favorite restaurants in Provence, Le Bistro du Paradou, which we "discovered" years ago, thanks to cookbook author and James Beard award recipient, Patricia Wells. Their plate du jour and amazing cheese selection will likely put you into a food coma, but if you can't indulge while you are on vacation, then what's the point?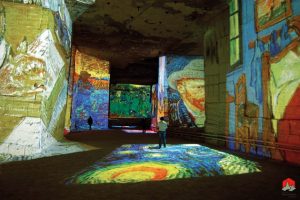 Once we have finished our dessert, wine and cafes at Paradou, we will head back to Le Baux for the Carrières de Lumières. This extraordinary multimedia experience is held in the chalk quarries. Upon entering the cool caverns, we become surrounded by music accompanying images from the works of famous artists, which are projected larger than life onto all the surfaces of the rock, from ceiling to floor. It is a total immersion, as if you are walking into the paintings!
This evening, dinner is on your own. Taxi and local restaurant info can be found in your BBV app.
Breakfast, Lunch  Provence Dreams Tour Itinerary
---
Day 8 Thursday, Secret Truffle Hunting Location – Lourmarin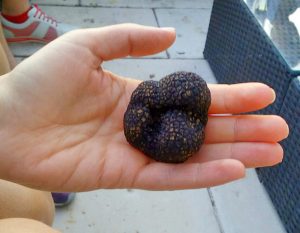 Put on your hunting togs today! After breakfast, we are off to do some truffle hunting! On our truffle hunting excursion, we will go behind the scenes of Provence's most secretive business to learn how truffles are cultivated and truffle dogs are trained. We'll go on a hunt for France's elusive "black gold" with professional truffle hunters who will share the tricks of the trade with us. Finally, we'll finish up with a sampling of fresh truffle hors d'oeuvres and Champagne. En route back to our chateau, we'll make a stop at one of the neaby picturesque villages mentioned in Peter Mayle's A Year in Provence, where you'll have time to explore, enjoy some lunch at one of the cafes and maybe even indulge in a bit of souvenir shopping.
This evening, we will enjoy freshly prepared Provencal cuisine at a local restaurant.
Breakfast, Dinner  Provence Dreams Tour Itinerary
---
Day 9 Friday, Vaison la Romaine
We will spend today in one of Provence's most magical cities. Vaison la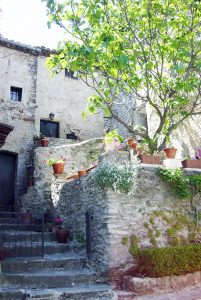 Romaine. Vaison la Romaine is a unique and interesting town in that it is divided into 3 areas, each representing different time periods. The Roman ruins and the modern town are down in the valley; then, as you cross over a bridge from the 1st century AD, you will be led into the medieval town which winds its way up a rocky cliff.
We will start our visit today with a guided tour of the ruins and some time to explore the museum housed there. Then we will head up to the medieval part of town for a casual lunch at a local café. As with many towns that are so picturesque and historic, there are a number of talented artists living here. We are happy to point you in the direction of some of their galleries before you head off to explore a bit on your own. The upper town is a wonderful place to wander, with cobblestone pathways and staircases that lead towards the ruins of a castle at the top of the hill. If you are feeling ambitious enough, you might decide to climb all the way to the top. But don't worry if this is not your thing; wandering leisurely through the ancient town is magical in itself and will provide for some great photo ops.
This evening, we'll enjoy a farewell dinner accompanied by local wine.
Breakfast, Dinner  Provence Dreams Tour Itinerary
---
Day 10 Saturday, Sorgues- Avignon TGV
Time for a final breakfast at the Chateau before our transfer to the Avignon TGV station then on to wherever your travels will bring you.
Au revoir until next time!
Breakfast Provence Dreams Tour Itinerary
---
Early Booking Price of Only $4355 pp person double occupancy for 10 days/9 nights.
Single Supplement add $855
Space is very limited and room assignments will be based on a first come first serve basis.
Please Email or Call Us at 1-888-846-2337 with any questions on the Provence Dreams Tour Itinerary.
Start Location: Avignon, France Nearest Airport: MRS  (Marseille Provence Airport) or you can use CDG to visit Paris 1st
End Location: Avignon, France Nearest Airport: MRS or you can use CDG to visit Paris
---
As we strive to constantly improve our tours and come across a special new event or winery, we may occasionally adjust the itinerary as necessary to provide you with the best wine-cation experience possible.
Given that there is a minimum number of passengers required for each trip, we suggest you refrain from non-refundable transportation purchases until two months prior to your departure date or confirmation of tour.